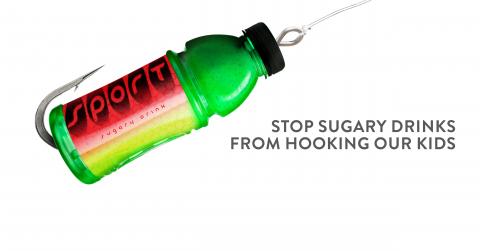 Funded by San Francisco's Sugary Drink Tax, Peace Parks Give Young People a Safe Place to Be Active and Have Fun
From Voices For Healthy Kids, a joint intiative of the American Heart Association and Robert Wood Johnson Foundation, working to make each day healthier for all children.
In 2014, 60 children playing at the Herz Clubhouse and Playground in San Francisco's Visitacion Valley witnessed a fatal shooting. Among them was the victim's 10-year-old son.
Now, just five years later, dozens of teens flock to Herz three nights a week to participate in a range of activities that include basketball, drumming, swimming, dance, hair-braiding and cooking.
What's behind this transformation? A new program called Peace Parks that creates safe opportunities for teens and young adults who live in neighborhoods affected by crime to go out and have fun at night.
"There are a ton of kids in this community," says Robert Sotelo, who runs the Peace Parks program at Herz. "Having this spot open has created a new environment for them. It gets kids off the street and having a good time instead."
San Francisco's sugary drink tax funds most of the Peace Parks budget.
City Sugary Drink Tax Revenue Provides Bulk of Program's Budget
Peace Parks, a collaboration between the San Francisco Police Department, Department of Public Health and the Recreation and Parks Department, receives about $520,000 a year in funding generated by the city's 1-cent-per-ounce sugary drink tax—about 68% of the program's $760,000 annual operating budget.
Since 2016, when 62% of city voters approved the tax measure in a ballot initiative, millions of dollars in sugary drink tax revenue have funded programs that increase access to healthy foods, expand opportunities for physical activity, provide health and nutrition education, upgrade parks and other outdoor facilities and improve oral health for kids.  In 2018, the tax raised an estimated $16 million.
Peace Parks was an initiative of the late San Francisco Mayor Ed Lee, who died in December 2017, around the time the program launched. It is loosely modelled after a similar program in Los Angeles called Parks After Dark.
Strengthening Relationships Between Officers and Young People
The idea, according to Linda Barnard, recreation manager for Recreation and Parks Department's Sports and Athletics Division, was to "break down stereotypes" between police officers and community members. In addition to providing security, officers interact with and get to know the young people who come to the Peace Parks by doing everything from playing basketball with them (the officers field their own league team) to teaching them how to play chess. Sometimes officers escort kids home after the evening's programming is done, providing "safe passage."
In addition to Herz, Peace Parks operate at the Joseph Lee Recreation Center in the Bayview district and at the Potrero Hill Recreation Center; local officials hope to launch an additional site in the future. The Recreation and Parks Department creates the programming and officers from SFPD participate onsite.
Peace Parks are open Thursday, Friday and Saturday from 6 p.m. to 10 p.m. "Normally there would be nothing open at those times," says Sotelo, who not only manages activities at the Herz Peace Park, but also cooks hot healthy meals for the young people to enjoy.
Recovery After a Neighborhood Tragedy
The Herz playground is only a few blocks from the Sunnydale public housing complex, San Francisco's largest housing project. After the 2014 shooting, the playground shut down until 2016, when Sotelo reopened it.  But it took him a year going door to door before families felt comfortable allowing their children to return to Herz.
Sotelo says the steady police presence at the Peace Park has been good for the neighborhood. "There ends up being a better feeling of communication and rapport," he notes.
Sgt. Tracy McCray, who works in the Bayview, says that the Peace Parks program builds on how officers have interacted with neighborhood kids for generations. "I grew up in public housing and that's kind of how it was when I was growing up," she says. "I would go to my neighborhood gym and the officers were like our coaches."
For the officers, taking part in the Peace Parks has helped strengthen existing relationships with community members. "It makes us more approachable," McCray says. "The kids see us as just a regular Joe, whether we have the uniform on or not."
Residents Feel Safer
Chiquita Woods, who lives at Sunnydale, says her 14-year-old daughter Leon'AY loves going to Peace Park with her friends.  Leon'AY was among the children who witnessed the shooting at Herz.
Woods says that when she and Leon'AY moved to Sunnydale in 2006, crime was rampant. Shootings were common; she recalls leaving home one morning with Leon'AY on her way to school, only to find a dead body by her car.
But things have improved, which Woods attributes in part to the increased police presence three nights a week at Peace Park. "There's been less crime," she says. "I feel safe now."
Denise Armstrong, a longtime Sunnydale resident, has two grandsons who are Peace Park regulars. "For the teenage kids, the Peace Park really keeps them out of trouble," she says. "They have a wonderful time, and they have police protection to make sure they're safe."
Peace Parks is just one example of the wide range of positive impacts that sugary drink taxes are having in San Francisco, throughout the Bay Area and other cities across the country—from reducing consumption of sugary drinks that contribute to diabetes and heart disease to promoting healthier neighborhoods where young people have safe places to socialize and be physically active.
Without the revenue from San Francisco's sugary drink tax, Peace Parks would lose the bulk of its funding—and young people would lose their safe havens.
In neighborhoods like Sunnydale, Peace Parks is quickly making a big difference. "It's a totally different feel here now," Sotelo says.
Help Inspire Change in Your Community
To learn more about this issue and how you can help mobilize a similar campaign in your community, visit our Sugary Drink Toolkit. Within our toolkit, you will find helpful information to build out your own advocacy efforts aimed at developing policies that reduce the consumption of sugary drinks.