Food Revolution- No Sugary Milk!
We hope you watched the premiere of Jamie Oliver's Food Revolution last night on ABC and saw Jamie with his pink slime and school bus full of sugar. If you missed it, make sure you check it out on abc.com or hulu.com because we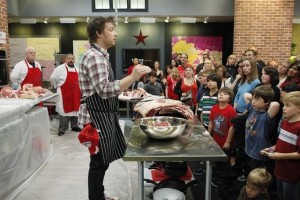 know when you see it, you will want to act.  And we've got just the action for you:
This week we're launching the "Food Revolution No Sugared Milk" campaign where can join us and demand better for our kids.  Visit our Sugary Milk Campaign page and let the country know that only plain, white milk should be served in schools. Also check out our "Milk Fact Sheet" so when you tell all your friends, family and followers to support the campaign you're armed with the facts.
Be sure to download the new "Food Revolution No Sugared Milk" twibbon and add it to both your twitter and Facebook to show your support and  spread the good word.
"How much sugar?!"
Last but not least, don't miss our first Food Revolution twitter party tonight!  It starts at 7PM PST and is being hosted by @FoodRevTeam and @JamieOliver with the hashtag #foodrevparty. During this party we will have an ongoing conversation about the Food Revolution and how to get involved in your community.
Thank you for supporting the Food Revolution!
The Food Revolution Team