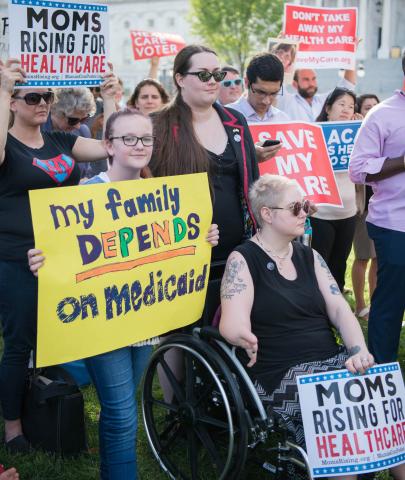 Five Ways To Step Up Against Attacks On Our Families
Last week, Congressional Republicans let the Children's Health Insurance Program (CHIP) expire and voted in favor of gutting Medicaid which would result in millions more uninsured children. This week, the Trump administration rolled back access to birth control and the House passed a 20 week abortion ban, both of which will result in more unplanned pregnancies and more children being born to families who are unprepared / cannot care for them.
In addition, AG Sessions issued TWO memos this week with guidance dismantling anti-discrimination measures for LGBTQ+ people citing "religious liberty" as one of the reasons, fundamentally undermining the safety and security of LGBTQ+ families.
As the mother of a son who has had special health care needs, and an atheist bisexual woman who is both pro-choosing-when-you-want-to-start-a-family and pro-choice (and anti-controlling-women's-health-care-decisions and anti-forcing-your-religious-beliefs-on-others), I am feeling furious, violated, and under attack.
These assaults on vulnerable communities didn't start with the Trump Administration, but he and Congressional Republicans have turned up their volume... If you haven't been speaking out against the attacks on people of color, Muslims, immigrants, refugees, Jews, and people with disabilities because it "doesn't effect you" where is your moral compass? And if you're not disgusted by the degradation of protections for our environment, health care, free speech, media, and even our pocketbooks it's time to wake up! (And don't even get me started on guns.)
THIS IS NOT A DRILL—The devastating policies and "guidance" being set by the Trump Administration and Congressional Republicans all have one goal in mind: to pit our communities against each other—distracted by fighting over inadequate health care funds, culture wars, and job security—so they can pillage our nation's financial and environmental resources to benefit a select few.
OF COURSE access to health care, civil rights, and economic security are paramount for each of us to be able to live healthy, free, and full lives. We must keep fighting for our values on those fronts.
But we must also remember WHY they're attacking on all fronts - so they can keep us occupied at the front door while they rob us from the back. In addition to the Medicaid cuts, they're working to gut critical programs in the budget like Medicare, disaster relief, WIC, head start, and SNAP in order to give trillions of dollars in tax cuts to wealthy families. (Seriously - the 400 richest families would get an average of a $9 million/yr tax cut!)
They've forgotten one thing though - there are far more of us (LGBTQ+ families, people of color, immigrants, other marginalized communities, and low- and median-income families) than them. We just need EVERYONE to step up so we can keep ALL of our families safe from an increasingly authoritarian government seeking to take our health care, impose their religious beliefs, and rob us of our collective wealth for the benefit of the few. (Sounds easy, right?)
What does "stepping up" look like? Here are five steps to get you started:
First and foremost, do not succumb to the temptation to tune out or become complacent about "not following politics" -- apathy is not only the enemy of democracy, it is the enemy of liberty, if you're not paying attention.
Second, make it a goal EVERY DAY to take at least one action to fight against these assaults on our families, friends, and neighbors! (Call your elected leaders and share your experiences with programs that are under attack, sign a petition from a state or national nonprofit that organizes communities against these bad policies, or volunteer for candidates who align with your values.)
Third, dismantle false narratives as you hear them. We all have family members, friends, coworkers, or acquaintances who say things that make us cringe, but we're just "not in the mood to argue." (It's ok to choose the time / place / manner by which you challenge them - but DO challenge them.) We're not only trying to change policies—we have to challenge the faulty ideas in our culture that got our policy makers elected in the first place.
Fourth, re-examine your own assumptions about public policies and how they impact marginalized members of our communities. Talk to people who have experience with Medicaid, food stamps, WIC, after school programs, head start, etc. It's important to LISTEN to (and believe them about) their experiences.
Finally, remember that, while there is a large load to carry, if everyone does their share of lifting - we CAN carry it. We CAN fight the battles at both the front and back door—we just need YOUR help to do it!