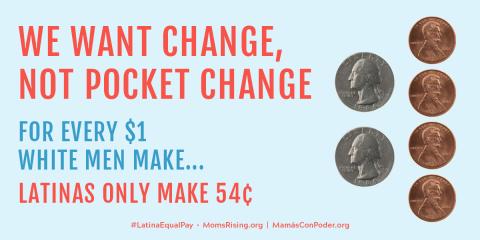 Fighting for Latina Equal Pay
Can you believe 2019 is almost over? Time flies when you're busy resisting and persisting! But there's one thing that truly hasn't come soon enough – Latina Equal Pay Day. We "celebrated" Equal Pay Day on April 2nd, marking the fact that women of all races must work an average of more than 3 extra months just to earn what white men were paid in just 12 months in 2018. However, averages don't tell the whole story.
Latinas have to wait until TODAY, November 20th – nearly the end of 2019 – to earn what white men made in just 12 months in 2018. Yes, that's nearly 11 extra months of work and why we have the very last equal pay day of the year.
TAKE ACTION! Tell Congress: Close the wage gap for Latinas with a package of bills that would advance equal pay!
When it comes down to dollars and cents, Latinas are paid just 54 cents for every dollar paid to white men. Latina moms, over 60% of whom are breadwinners for their families, make even less – just 46 cents for every dollar paid to white dads. 
Hmm. According to our calculations, that's just plain unfair. And we have to do something about it!
  ━━━━━━━━━
┃     We need       ┃
┃#LatinaEqualPay┃
  ━━━━━━━━━
    7 ┃ 8┃ 9┃ / ┃
    ━┛━┛━┛ ━┛
    4 ┃5 ┃6 ┃ + ┃
    ━┛━┛━┛ ━┛
    1 ┃ 2 ┃ 3 ┃=┃
    ━┛━┛━┛ ━┛
And we need it now! Here's another jaw-dropping calculation for you: If the wage gap were eliminated, the typical Latina working in the United States would have enough money annually for 3 more years of childcare or 3 more years of tuition at a public university.
That's a life-changing difference of $28,036 more per year – the difference between living in poverty or not. 
>>> Urge Congress to help us achieve #LatinaEqualPay and lift families out of poverty!
These are the bills that need to be co-sponsored and passed by your members of Congress in order to meaningfully help narrow the wage gap:
QUICK SIGNATURE HERE: Tell Congress to PASS the Paycheck Fairness Act, the Raise the Wage Act, the FAMILY Act, and the Healthy Families Act!
If we don't act now to close the wage gap, Latinas stand to each lose over ONE. MILLION. DOLLARS over the course of their career. 
That's unacceptable. Latinas need 100% of their paycheck, not just 54% of it.
Together, we are a powerful force for Latinx women and families!
 
>>> P.S. – Check out our short & powerful new video – Latina Equal Pay Day 101!