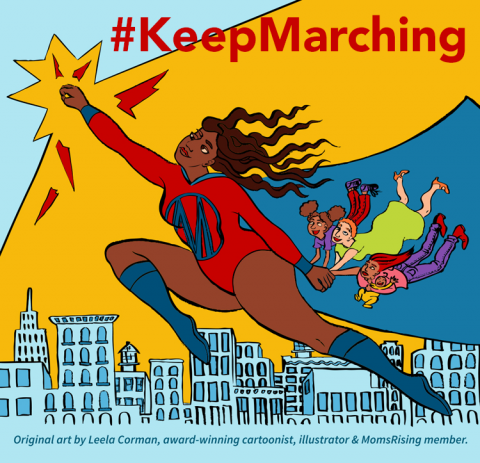 February 2021 #KeepMarching meeting: What's WINNABLE in Congress?
At last night's February #KeepMarching meeting, we discussed winnable opportunities to create real and lasting change for our families, communities, and economy in 2021. We learnt about the two exciting bills that will be reintroduced in Congress to push universal child care, key policies like a $15 minimum wage and Paid Family Leave that working parents need, and President Biden's actions to support immigrant families in the US. We're excited to act big and WIN even bigger this year!
We are grateful to MomsRising's National Director, National Budget and Taxes, Elyssa Koidin-Schmier, for moderating this discussion, and to MomsRising's National Director for Early Learning Nina Perez, MomsRisng's Senior Vice President and Chief Workplace Justice Officer Ruth Martin, and Xochitl Oseguera, Vice President for MamasConPoder, MomsRising's Latinx engagement program for sharing their expertise with us. 
I. In case you missed the meeting, or would like to review any part of the program, no problem, we recorded it! Click here to watch the recording. 
II. Participant Comments
We had people joining from the far corners of the country -- from Loveland, Colorado, to Palm Bay, Florida, and from Queens, New York, to Phoenix, Arizona. The conversation was informative, inspiring, and highly engaged. Here are just a very few of the many valuable comments and questions that participants shared in the simultaneous chatroom:
Kristin (04:03): What do you recommend for those of us who live in a state with already supportive electeds - Sen. Patty Murray is one of my Senators. Worth it to call other members from other states?
Katherine (04:07): We soooo desperately need the min wage raise!!
Caroline (04:16): That makes me crazy. My co-worker can take off to have a child, but I can't take off for essential surgery or chemotherapy? That makes NO sense!
Emelda (04:26): Since Trump has appointed hundreds of judges (who want to block what we're trying to do) what is the strategy for working around that?
Autumn (04:32): Thank you for the incredibly important work you do! Will there be future meetings like this that address the Gun Safety issue and the likelihood of achieving meaningful gun control legislation?
Robin (04:35): I need to leave at 8 - this was my first meeting but it won't be my last! Thank you for the important work you are doing!
Jesse (04:38): Thank you for the updates! I'm so glad you all are doing these labors of love, and am hoping to help support your efforts!
III. Resources to help you learn more & actions to take:
IV. We love meeting with members of our #KeepMarching community, and hope to see you at our next meeting. Watchout for details! In the meantime, here are ways we'd love to stay connected to you:
With hope and in solidarity,
Gloria and Joy