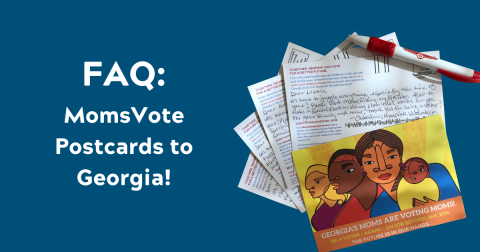 FAQ: MomsVote Postcards for GA
Thank you for helping to power our MomsVote campaign for the special election in Georgia! Amidst a global pandemic and one of the busiest times of year, you are making time to remind moms in Georgia about their voting options. We are so grateful - thank you again! The future is what we do together.
> Signing Up for Postcards <
Where can I sign up for the MomsVote postcards for Georgia?
The sign-up period for this MomsVote campaign has closed, but if you would still like to support this effort, we are accepting donations to help offset the cost of printing and postage. If you would like to be notified about our future GOTV postcard campaigns, please sign up here.
The great news is that you can still sign up for MomsRising's partner postcard effort with the Transformative Justice Coalition and the Georgia Coalition for the People's Agenda (volunteers are required to cover postage costs). Thank you for supporting our friends in Georgia!
> Receiving Postcards <
I haven't received my postcards yet! When will they arrive?
All postcard packets have been mailed out to volunteers who signed up for them and most have already arrived. If you haven't received your packet yet, it should arrive during the week of December 14th. If the week of Dec. 14th passes and your packet still hasn't been delivered, we kindly ask for your patience, as it appears that some USPS mail is still getting delayed. If your packet arrives after the "mail-by" date of Dec. 18th, please go ahead and fill them out and send them to Georgia as long as you do so before December 26th! The voters you're writing to are likely to vote in-person on January 5th, so they won't be too late.
*** If your packet arrives after December 26th due to the mail delays, please recycle the postcards. No need to return them to us, as we'll only be charged for postage if the postcards are mailed to voters.
Please note that unfortuantely there were a number of volunteers that submitted invalid mailing addresses when they signed up for their postcards and we weren't able to mail their packets. You can check your confirmation email for this campaign to see which address you signed up with. We are unable to send replacement packets of postcards.
> Writing Postcards <
I misplaced my instructions – what should I write on the postcards?
Here is a digital copy of the instructions!
Do I have to handwrite the message that MomsRising suggested in the instructions?
Yes, we hope that all volunteers will handwrite the message provided on our instructions. If you are having trouble fitting the entire message on the postcard, feel free to exclude the last sentence of the message! Please note that you can use the entire width of the postcard, above the the barcode and below the stamp section.
> Mailing Postcards <
My packet of postcards arrived after your "mail by" date of December 18th. What should I do?
We're sorry to hear that your packet arrived so late! Please go ahead and fill them out and send them to Georgia as long as you do so by December 26th!
My local post office said I need to buy stamps to mail the postcards – is this right?
A few volunteers have reported this happening. We want to assure you that the printed postage on the postcards is correct and valid. It is part of a USPS program called "Share Mail". Unfortunately, some USPS employees may not know about this fairly new postage program. We suggest that you simply drop your postcards in a blue USPS mailbox outside your local post office, or one that's located in your neighborhood. This way, your postcards will be accepted into the mail stream automatically and processed without delay!
Do I mail these back to MomsRising or mail them directly to voters in Georgia?
Please mail these postcards directly to voters in GA!
> Other Questions <
Who created the beautiful artwork on the front of your postcards?
The artwork was created by Favianna Rodriguez. Check out and support her work here: https://favianna.com/
Do I have to be a mom or parent to participate?
No – anyone and everyone is welcome to volunteer to write MomsRising voting reminder postcards!
My postcard packet includes a postcard addressed to someone outside of Georgia. What should I do?
This means that the voter very recently moved from GA to another state, so please recycle the postcard and don't send it to them.
I didn't mail my postcards on time. What should I do?
Please mail them as soon as you can, but no later than December 26th! 
Do I need to add stamps to the postcards and cover the cost of postage?
No, MomsRising is covering all postage costs to make this GOTV project fully accessible to everyone that is interested in participating. The voting reminder postcards all have pre-stamped indicias.
I would like to make a donation to the GOTV postcard campaign in GA. How can I do that?
Thank you so much for interest in donating! Here are a few ways to do so:
DONATE ONLINE HERE
SEND A CHECK to this address (include "GOTV postcards" in the memo line):

MomsRising Together
3717 Boston St #313
Baltimore, MD 21224
Have other questions? Email us at postcards@momsrising.org