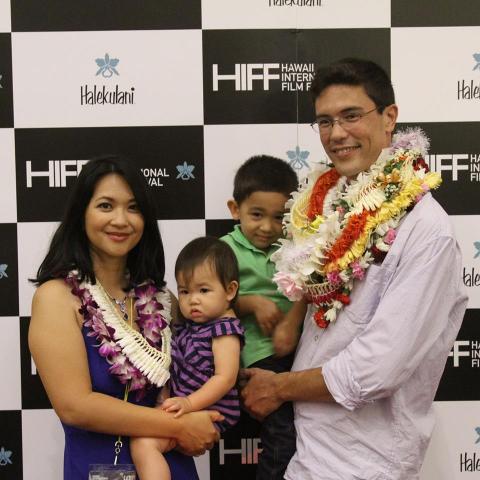 Family First -- 3 Moms Document the Paid Family Leave Movement
Thank you to Mom-Mentum for graciously allowing this updated crosspost for National Work and Family Month:
In March of this year, Honolulu filmmaker Kimberlee Bassford and I had our first discussion about the project that would become FAMILY FIRST, a film that will interweave the movement to pass paid family leave with history, pop culture and contemporary portraits of working mothers and fathers in America. Though the issue of national paid family leave is finally gaining traction -- as evidenced by the recent Democratic Presidential debate -- when I first reached out to Kimberlee in May of 2014, this was definitely not the case.
I had contacted her about Lean On and Lead, Mothering and Work in the 21st Century Economy, my interactive iBook about the connections between working women's success and a thriving economy. Kimberlee had written and directed PATSY MINK: AHEAD OF THE MAJORITY, a documentary about the first woman of color in Congress who was also a co-author of Title IX. This landmark legislation, which prohibits gender-based discrimination in education, has resulted in stunning educational advancements by women over the last forty years.
I offered Kim a download of my iBook. She emailed after about a month, apologizing for the delay in her response:
"As a working mother with two small kids under the age of 3, I have not been able to keep up with email as much as I'd like. But, if your offer still stands, I'd very much like to read the book (I'm hopeful it has some insight that will help me manage my competing demands of work and family!)"
Prior to her email, I didn't know anything about Kim's personal life, but I wasn't surprised. Most women I've contacted about Lean On and Lead have families -- since a significant percentage of working women are of childbearing age. Furthermore, the greater their challenges balancing work and family, the more interested they've been in reading the iBook -- and the less time they've had to do so. I sent Kim a link, and four months later, she sent me another email:
"I'm sad to say that I haven't read the book yet. I've been busy finishing my documentary WINNING GIRL in time to premiere at the Hawaii International Film Festival in early November. I'm hoping that after that, things will settle a bit and I will finally have some [time] to read. And your book is at the top of the list. It's on my ipad waiting already."
Then last March (four months later), Kim emailed me about an upcoming visit to Maui (where I live) and asked if I'd be willing to drive across the island to talk about a project. She couldn't come to me because her 17-month-old was still breastfeeding. I arrived at her hotel, and we sat by the pool and talked about her films. Her husband took their soon-to-be four-year-old to swim, and they tag-teamed the baby.
Kim described the process of completing PATSY MINK: AHEAD OF THE MAJORITY seven years ago. It was much easier than her latest film WINNING GIRL because one year into it, she became pregnant with her first child -- a son. Three years and three months after that, her daughter was born. Being pregnant and raising two babies while making WINNING GIRL meant she ultimately outsourced quite a bit of work. Now that the film has been released, it's been difficult for her to attend screenings and other events. Kim told me:
"Having children has been a revelation...I didn't realize how difficult combining work and family would be."
We talked for hours about what every working woman talks about when she finds a fellow traveler--the lack of support in the US for families and the absence of public acknowledgement of the link between a strong economy and support in raising the next generation. As the conversation came to a close, Kim said that she wanted to develop a documentary about working mothers and she wanted my help.
Since then, she has also reached out to Producer Jackie Conley, another working mom, and we are now tag-teaming on FAMILY FIRST. We have begun interviewing working moms and dads, legislators, and experts in public policy and work cultures, and over the next year, we will be following efforts in Hawaii and other states to pass paid leave laws. This summer -- less than four months after our pool conversation -- we filmed a Roundtable on Paid Leave with US Labor Sec. Tom Perez, Hawaii legislators, and diverse stakeholders in Hawaii.
Almost everyone we've spoken to is a parent or family caregiver. This shouldn't be surprising. "Caregivers who work" -- or "workers who care for family members" -- are not exactly a special interest group. It just often feels that way.
And though family leave bills have failed three times in Hawaii, our state legislators are beginning to talk about "movements" and "convergences" when it comes to this issue.
They are realizing that putting "family first" through leave legislation and supportive economic policies benefits not just individual families but our state and nation.
And as we saw in last week's Democratic debate, Presidential candidates are tripping over each other to be the most emphatic about paid family leave as a moral imperative.
In the short time Jackie, Kim, and I have been working on this film, it's been an uplifting experience. As mothers we get to work on something that we are passionate about with people who understand each other's family needs. We lean on each other in order to lead.
Shouldn't that be the goal for all workers in America?