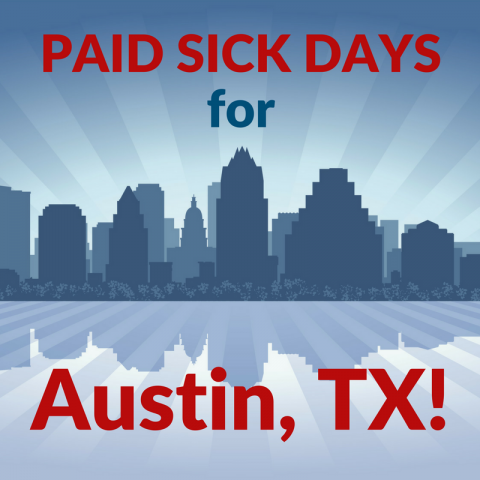 Fall back? No way! (Paid Sick Days for Austin)
We may have we set our clocks back an hour on Sunday, but in Austin we're moving forward at full-speed to make earned paid sick days a reality for every working family!
Here's the scoop: Recently, the Austin City Council voted unanimously to explore developing a city-wide paid sick days policy.
It's important that we thank each of our Council Members for voting to kick off the process of passing paid sick days in Austin — and let them know we fully support the introduction of a strong and comprehensive paid sick days ordinance!
It's a HUGE deal that the Austin City Council is moving forward on earned sick days because
37% of workers in Austin
(that's 223,000 Austinites) can't earn a single paid sick day right now.
Austin elementary school teacher and MomsRising member Danita has seen what happens when working parents aren't able to earn paid sick days. She shares:
"I've had students come to class with high fevers, chills, body aches, vomiting, and whooping cough, who tell me they can't stay home because their parents have to work. Without paid sick days, the foundational structures of our city — families, schools, our medical system, and our economy — are undermined, negatively impacting our entire community."
Danita is right! Paid sick days are a win-win-win for Austin's working families, businesses, and local economy.
We want Austin to be a city where no parent has to make the impossible choice between staying home with a sick child — and losing a day's pay or even their job — or sending their little one to school sick so that they can keep food on the table and make ends meet.
Letting your Austin lawmakers know that you strongly support the introduction of a paid sick days ordinance can make all the difference for the city's working families and their economic security. For an average family without paid sick days,
just 3.5 days of missed work
due to a cold or the flu is equivalent to an entire month of groceries.
Together, we're a powerful force for women and families in Austin.