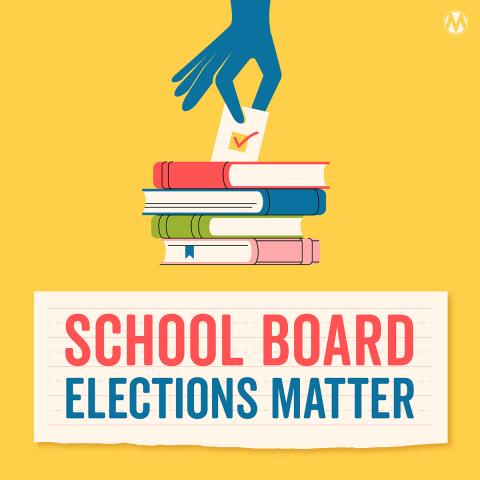 Extremists are on the ballot in Washington, we need you to get out the vote!
Ballots have dropped – get your ballpoint pens ready to fill out those bubbles and let's MOM the vote. 
Yes, we know, it is not a "big" election year. And so many people wonder: what is the point? Does my vote matter? And emphatically, the answer is YES. It perhaps matters the most! In fact, 99% of elected officials are on the local level and help determine the values, policies, and programs that deeply impact children, moms, and families every day! 
In Washington, we vote on school board members in odd years – so 2023 is here and there are school board elections happening across the state. And there has been no more important time in history to vote in school board elections than RIGHT NOW. At a time when schools are under attack by right-wing extremists, fueled by fear and hate, unleashing their pro-hate, anti-freedom agenda on students and families from coast to coast. 
It's not just Florida and it's not just conservative states: The attacks on books, schools, and the freedom to learn is growing across the country, including here in Washington State. There are people running for school board across our state that espouse these dangerous and harmful ideologies and we will not stand for it. 
Far-right MAGA Republican Governors and state legislatures across the nation have been using political tricks to erode accurate and age-appropriate education, attack LGBTQ+ communities, and ban books. Fake "parents" groups are targeting even progressive areas to try to ban books from public schools. This is a highly coordinated attack on the rights of children, families, and the freedom to learn. It's critical that we all have the tools to fight this censorship machine - and core to this fight is electing strong leaders to public school boards to ensure our schools do not fall to these hateful attacks. 
Find out who is running for School Board in your district on platforms that support our children and families, and fight back against hate and fear. → Use this voter's guide from our partners at Fuse Washington: Progressive Voters Guide: Washington to find out more. 
Make sure to have your ballots postmarked by Tuesday, November 7th or find a certified ballot drop box in your community by 8pm on Tuesday, November 7th. You can find information on where to drop your ballot here.