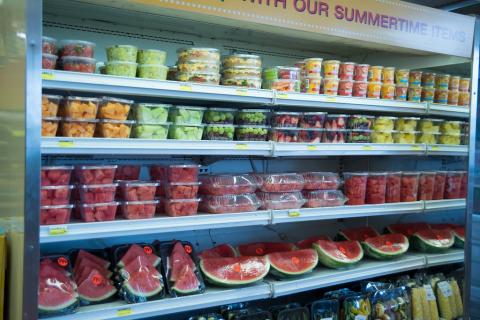 Equity Through Access to Healthy Food in New York
From Voices For Healthy Kids, a joint intiative of the American Heart Association and Robert Wood Johnson Foundation, working to make each day healthier for all children.
"The individuals who are directly impacted by passing these policies have a role to play. And the role has to be integral. It can't just be a token effort. You can't find a spokesperson and put them in front of a microphone and anticipate the effort is going to check off a box. You need to be focused on building a trustworthy relationship." Robin Vitale, Vice President of Health Strategies at American Heart Association in New York City.
Healthy Eating Issues Help Identify Other Obstacles
Nearly 1.9 million residents of New York City — almost a quarter of the city's population — live in lower-income communities with limited access to healthy food retail, and data show they are at risk of poor nutrition and rising rates of heart disease. The American Heart Association in New York City, with support from a grant from Voices for Healthy Kids, aims to help residents address these issues by advocating for city funding that will directly impact this outcome. They are doing this by advocating for funding for incentives for the purchase of healthy food under the federal Supplemental Nutrition Assistance Program (SNAP), which provides nutrition assistance to eligible, low-income individuals and families, and healthy food financing, which provides incentives to bring healthy food to retail settings in underserved neighborhoods. Along their journey, they have realized that despite best efforts, there is no single solution. Because people live in a complex world, there are other critical issues, including public housing standards, that need to be solved as well.
The New York City Housing Authority (NYCHA) is the largest public housing authority in North America and is home to one in 14 New Yorkers – roughly equal to the population of the City of Miami. Per one NYCHA resident, there is no point in obtaining healthy food if it is not consumed immediately, even if they could afford it as fruits and vegetables stored overnight could be eaten by vermin and pests.
"It was any eye opener for us," said Vitale. "Here we are trying to get affordable, healthy foods in these neighborhoods, but they're still going to have obstacles. We have to really think critically about what role we're going to play. Will we find ourselves asking NYCHA for improved living spaces and making sure they have the proper inspections? We could find ourselves in that conversation and we have to be ready."
In addition to being aware and equipped to deal with these intersectional issues, Vitale stresses that it is important to not fall prey to the idea that a long list of coalition partners and stakeholders automatically equates to immediate positive impact for the intended community. "It's imperative that our community partners include those members who have often had their voices ignored," she said. "You have to make sure that you are really thinking critically about those voices that may have not been involved in the past but may either benefit or be harmed by the decisions that you're making."
The American Heart Association of NY Finds New Advocate in Health-committed Mom
New York resident Annabelle Jimenez knows firsthand about the challenges of living in an underserved neighborhood. She was going through a self-transformation and her unhealthy habits were harming her and her school-aged son. She needed to be a better role model and ensure he was living a healthier lifestyle, so she began a health journey that resulted in the loss of 170 pounds. To celebrate this achievement, she was recognized for her lifestyle change at a celebratory event. But her story did not end there.
"We were excited to connect with Annabelle and discuss the challenges she's faced in her neighborhood," Vitale said. The American Heart Association quickly connected her with active policy campaigns to improve nutrition across the city. The prevalence of restaurants with unhealthy meals combined with a lack of affordable, healthy food options was having a direct impact on Annabelle's family.
Knowing these issues were very personal, the American Heart Association built an effective and authentic relationship with Annabelle to start her on the path for a new transformation – this time as an advocate for change. Equipping her with advocacy and media training, Annabelle is now a community leader who helps identify new advocates and is a well-versed spokesperson for the American Heart Association's healthy food campaign.
"Annabelle's remarkable life transformation not only inspires the AHA team, but it is helping to mobilize decision makers in City Hall to prioritize the needed policies to improve her community" said Vitale. "We look forward to seeing her efforts drive impact across New York."
Hit the Ground Running in Your Own Community
To learn more about this issue and how you can help mobilize a similar effort in your community, sign our petition or visit our SNAP Incentives toolkit. Throughout our toolkit, you will find helpful information for building out your own advocacy efforts aimed at increasing access to healthy, affordable foods, including steps on building a campaign, resources and sample content, and stories of success in other communities.