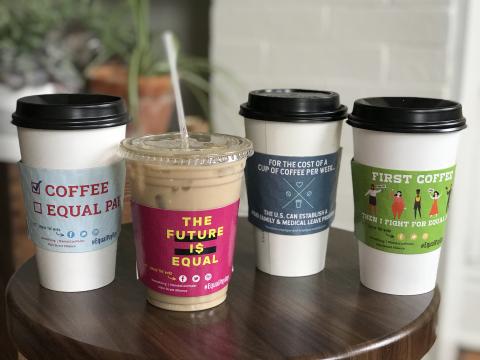 Equal Pay Day at Your Local Coffee Shop!
$840 billion?! 
That's how much women in the US lose collectively each year to the wage gap. What would you do with your share of that $840 billion? I can think of a few things!
If your answer didn't involve chocolate, here's some math to consider: each year, the average woman would be able to afford 15 more months of child care or 78 more weeks of food for her family if the wage gap didn't exist. Women of color and LGBTQ women are hit hardest by the wage gap, so these disparities in access to resources are exacerbated for them.
Women's wages fuel our businesses, economy, and most importantly -- many working families. 
That's why we teamed up with Main Street Alliance to mark equal pay day with a fun and high-impact gimmick. Over thirty coffee shops and other small businesses will be using our custom coffee sleeves and napkins on April 10th -- Equal Pay Day, the day when ALL women's wages catch up with what men made in the twelve months of 2017 alone. 
Find out below where to "celebrate" Equal Pay Day in your neighborhood, whether it's urban or rural, and learn more about how we can close the wage gap together!
>>> There's a special FREE & family-friendly event happening in Seattle to help celebrate Washington state's recent victory in passing the Equal Pay Opportunity Act and to help build MOMentum on future equal pay laws! 
April 10th, Equal Pay Day, from 5:30pm - 8:30pm at Hill City Tap House
Take a "bite" out of the wage gap with free food from Emma's BBQ and ice cream from Molly Moon's. We'll also be taking over Hill City's weekly trivia, enjoying drinks wrapped in equal pay factoid sleeves, and have fun activities going for the kiddos.
RSVP HERE: 
https://action.momsrising.org/survey/Equal_Pay_Day_WA/
SMALL BUSINESSES SUPPORTING EQUAL PAY DAY:
Colorado:
District of Columbia:
Iowa:
Maine:
Maryland:
Massachusetts:
Minnesota:
New Hampshire:
New York:
Oregon:
Pennsylvania:
Vermont:
Washington: