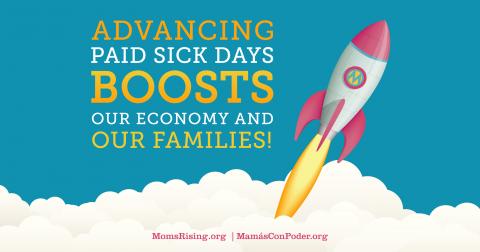 Earned Sick Time for St. Paul!
Summer may be winding down in St. Paul, but the city's earned sick time ordinance is really gearing up! In fact, tomorrow, the City Council will review the ordinance for a second time before a public hearing on August 17th and final vote on August 24th.
Now it's up to us to make sure the St. Paul City Council turbo-boosts this exciting momentum and passes a strong earned sick time ordinance!
We're so close to making a big difference in St. Paul's economic security! And that's important because approximately
42% of workers
in St. Paul, predominantly people of color and low-income workers, can't earn a single paid sick day to care for themselves or a loved one when illness strikes. What does this mean for St. Paul families? Well, for an average family without earned sick time, just
3.5 days of missed work
is the equivalent to an entire month of groceries. Wow.
The earned sick time ordinance, crafted in large part by a city-led task force working with the Human Rights and Equal Economic Opportunity Department, calls for an hour of earned sick time for every 30 hours worked. St. Paul employees would be able to take paid time off to recover from an illness, care for a sick family member or as a result of domestic abuse or stalking.
Nearly 1/4 of adults
in the U.S. report that they have lost a job or have been threatened with job loss for taking time off due to illness or to care for a sick child or relative. Earned sick days boost job security and family economic security, which in turn strengthens the St. Paul economy. A win-win for all! It's no surprise that
small businesses are in favor
of the ordinance.
Together, we're a powerful force for women and families in Minnesota.