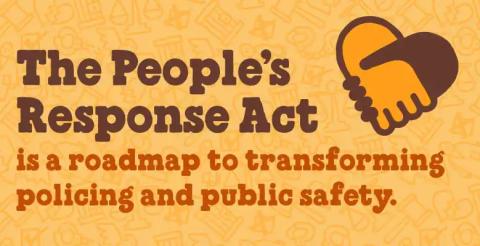 DOWNLOAD: People's Response Act One-Pager
Police violence has been a hot topic of conversation in America over the past couple of years. The pandemic has stripped away the distractions and forced us face the uncomfortable reality of police violence and lack of accountability in this country.
MomsRising is committed to finding alternatives to police and is organizing to pass  the People's Response Act, an inclusive, holistic, and health-centered approach to public safety. The bill, created by Missouri Congresswoman Cory Bush, sets out to adopt a new approach to public safety that will save lives, and build systems of care that are rooted in improving the well-being of all communities. It's an approach that will be equitable, health-centered, and preventative to stop violence and harm before it occurs while ensuring that every community has what it needs to flourish.
In supporting the People's Response Act, MomsRising has created a one-pager that outlines the act, statistics, and stories from the MomsRising community. We received hundreds of stories of personal encounters with police brutality and police violence, and the traumatic experiences that are clear indications needed reform and change.
The People's Response Act is important because most calls to police are in response to a mental health crisis. Our data shows that in 2021, 57% of killings by police were in response to a mental health crisis or a situation where the person was not threatening with a gun. Within that 57%,106 people were experiencing a mental health crisis when the police were involved. That data shows that the LGBTQIA+ community experiences a higher rate of violence and abuse at the hands of police, more likely to be stopped for a traffic violation,and more likely to be prosecuted as a juvenile. Transgender indiviudals of color are at the top of this list in being six times more likely to experience abuse from police than a cisgender individual. Sexual abuse by police is a horriftying notion and a systemic practice with little to no consequences.The highest rates of police sexual abuse are often against women of color, transgender women, and gender noncomfirming people. If that was not disturbing enough, only 1% of officers who kill civilians are prosecuted. The time for change is now. America's policing system is broken and the only way to fix the problem is listen to the people and let them lead. 
The People's Response Act will direct change by:
Establishing a new public safety division within the Department of Health and Human Services to fund and coordinate research, technical assistance, and grant programs related to non-carceral, health-centered investments in public safety. 

Launching a federal first responders unit that will support states and local governments with emergency health crises.

Research alternative approaches to public safety, including coordination of research and policies that are being implemented across HHS and other agencies to center health-based and non-carceral responses throughout the federal government.

Providing $7.5 billion in grant funding to state and local governments, as well as community-based organizations, to fully fund public safety and improve crisis response.

Establishing a $2.5 billion First Responder Hiring Grant to create thousands of jobs and provide funding to state, local, and tribal government, as well as community organizations, to hire emergency first responders such as licensed social workers, mental health counselors, substance use counselors, and peer support specialists, in an eort to improve crisis response and increase non-carceral, health-based approaches to public safety
Along with our stories from the MomsRising community demanding change, data shows that 96% of Americans support changing management to stop officer abuse and 82% of Americans support a greater role for community organization to promote community-based alternative solutions to police. These numbers are important in the fight to pass the People's Response Act. Police abuse and lack of accountability are hindering the success of our communities and the futures of our children. The best reform comes from the peoples and communities experiencing these atrocities. 
Please take a moment to download the People's Response Act one-pager and sign our petition in support of the People's Response Act.