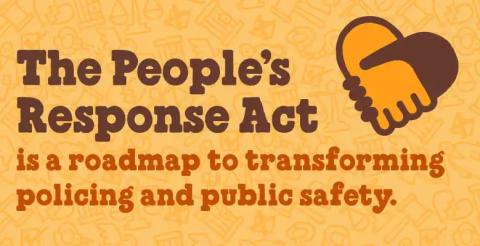 SIGN NOW: Tell Congress to Pass the People's Response Act!
It's time to reimagine public safety and create crisis responses that are appropriate and equipped to meet the needs of communities. The reality is that our current approach to public safety is not working for children, for families, and particularly for Black and brown communities that have been devastated by mental health and substance use health crises, and criminalization. We would be remiss if we didn't name that too often the invisible victims of police killings are mothers and the family members of those whose lives are taken too soon and under such violent circumstances. Families like that of Aiyana Stanley-Jones who was just 7 years old, Tamir Rice who was only 12, Michael Brown who was 18, and Laquan McDonald who was 17. Fathers, like Dante Wright, mothers, like Lajuana Phillips, daughters, like Breonna Taylor, son's like Elijah Mclain, too many gone too soon. Another alarming trend is the rapid increase in the number of police killings in rural communities.  In places like San Antonio, Texas, police killings are up 75%. Reimagining public safety is not just critical, for many communities it is a matter of life and death. We must reimagine our public safety system's instinct to criminalize and replace it with an instinct to be thoughtful, strategic, and rooted in providing appropriate care and response.
The time is now to reimagine public safety. Tell Congress to pass the People's Response Act!
What we are clear on is that this is an emergency and far too often the current excessive policing approaches have had devastating and deadly effects, particularly for youth, people living with disabilities, and communities of color. Let's be clear this is a public health crisis. People with untreated mental health disorders are 16 times more likely to be killed during a police encounter than people without mental health disorders who are approached or stopped by law enforcement. We must do better! We must not allow another community member in crisis, who deserve clinically appropriate responses to be harmed in their moments of need. If we had alternatives, if we adopted different approaches, Lindon Cameron, a 13 year old with Aspergers who was killed by Salt Lake City Police would still be here. The data is alarming, and grossly unacceptable. Nearly 1 in 4 people killed by law enforcement officials have had a mental health disorder. Black people were 27% of those killed by police in 2021 despite being only 13% of the population. 
Every community deserves to feel safe, and the traditional system of response fails to deliver the adequate, health-based response our communities need during a time of crisis.
Safe Communities Means Investments in Communities. Congress must pass the Peoples's Response Act now!
The People's Response Act emphasizes an inclusive, holistic, and health-centered approach to public safety by creating a public safety division within the Department of Human Health and Services — because communities and experts agree that public safety is a matter of public health. It adopts a new approach to public safety that will save lives, and build systems of care that are rooted in improving the well-being of all communities. This approach must be equitable, health-centered, and preventative to stop violence and harm before it occurs while ensuring that every community has what it needs to flourish.
The People's Response Act takes this much-needed step by:
Creating a new public safety division within the Department of Health and Human Services to fund and coordinate research, technical assistance, and grant programs related to non-carceral, health-centered investments in public safety;
Launching a federal first responders unit that will support states and local governments with emergency health crises;
Research alternative approaches to public safety, including coordination of research and policies that are being implemented across HHS and other agencies to center health-based and non-carceral responses throughout the federal government;
Providing $7.5 billion in grant funding to state and local governments, as well as community-based organizations, to fully fund public safety and improve crisis response;
Establishing a $2.5 billion First Responder Hiring Grant to create thousands of jobs and provide funding to state, local, and tribal government, as well as community organizations, to hire emergency first responders such as licensed social workers, mental health counselors, substance use counselors, and peer support specialists, in an effort to improve crisis response and increase non-carceral, health-based approaches to public safety.
Tell Congress: You must pass the Peoples's Response Act now!
Now, more than ever, it is crucial for Congress to step up and support new inclusive, holistic, and health-centered approaches to dealing with crises that will reduce harm and truly keep our communities safe. State, local, and tribal governments across the country are already implementing innovative strategies to prevent violence, reduce harm, and improve the wellbeing of every community, especially Black and brown communities.
The People's Response Act provides the resources and assistance to scale up these efforts and truly transform public safety in the United States. It would reframe how we think about and respond to crisis situations in this country with an approach that meets the demands and needs of our communities and this moment.
Thanks for all you do!
P.S.– MomsRising is mobilizing to reimagine public safety and our over reliance on policing. We are collecting stories to share with elected and community leaders to address police violence. If you and or your loved ones have been impacted by police violence, click this LINK to share your story. Together we are powerful!