Quick Signature!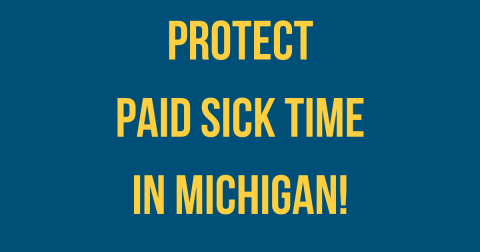 Don't GUT Michigan's new paid sick time law!
Did you hear the news?! Michigan lawmakers passed a paid sick time law! That may seem like good news at first, but the truth is that it's not that simple and we can't totally celebrate...yet.
Here's the scoop: The MI Time to Care coalition collected nearly 400,000 signatures for a strong paid sick time initiative to be on Michigan's November ballot (yahoo!) because they know that when voters get a say, they support paid sick time.
But here's the twist: Rather than letting the people of Michigan vote for paid sick days on November 6th, opponents of paid sick days did a devious end run and instead passed the law themselves through the legislative process so they have the power to weaken and gut the law later this year.
Now we're in a position where we're going to have to play defense and make sure the new paid sick time law isn't gutted by legislators doing the bidding of special interests.
Tell the Michigan Legislature: PROTECT — Don't Gut — the new Michigan paid sick time law!
MomsRising member Stephanie, of Canton, MI says:
"It would mean so much to know I could stay home with my daughter when she is sick, without losing a day of pay."
For Stephanie and all Michigan families: Tell the Michigan Legislature that you're watching and you want them to PROTECT the state's new paid sick time law!
Right now, the new law is slated to go into effect by April of 2019, allowing employees in Michigan to earn up to 9 paid sick days a year, depending on employer size, to care for themselves or a sick loved one or deal with the aftermath of domestic or sexual violence.
Michigan state Representative Leslie Love said it perfectly: "We must do this for the right reasons, for the 400,000 Michiganders who signed their name to this proposal. To gut it after the fact is nothing less than voter suppression."
Raise your voice to RESIST the efforts to gut Michigan's new paid sick time law!
After all, paid sick days reduce turnover costs, boost workplace morale, and help stop the spread of illness among workers. What's not to love?!
Together, we are a powerful voice for Michigan women and families.