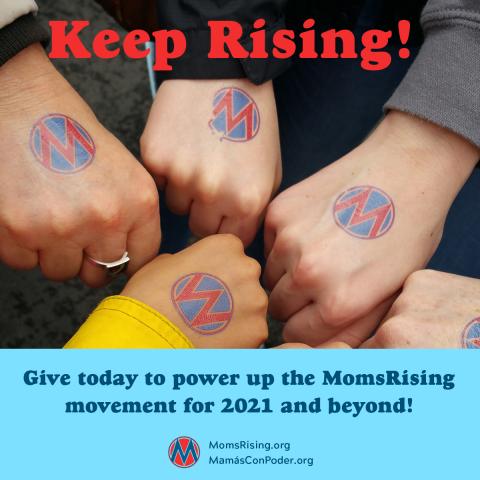 DONATE NOW! Support Voter Outreach & More
Across the country, so many of us faced so many different hardships this past year. And, despite it all, and often against all odds, MomsRising supporters stepped up in so many ways to show that we are not alone-- and that together we are powerful! In fact, together we are... KAPOW! YAY! BAM! WOW! BOOM! POW!
We had a goal of sending 3 million texts to get people the information they needed to vote, and we sent 23 MILLION!

POW!

We had a goal of sending 1 million postcards to remind moms about voting, and we sent over 4 MILLION (with millions handwritten).

WOW!

Talk about superheroes!

KAPOW!
And now as we near the end of 2020, we're thrilled to report that we are already (already!) almost halfway to our match goal of $50,000 so we can continue to be KAPOW powerful with you as we move forward policies that lift us all! And, thanks to another generous MomsRising donor, every gift you make to MomsRising before midnight on 12/31/2020 will be matched! $5 becomes $10, $100 becomes $200 and so on. NOW is the time to help us finish 2020 strong! WOW!
---> Add your POW! Donate here today! <---
BAM! In the past few months alone, you were part of the most massive wave of voter engagement in MomsRising history, accomplishing new levels of postcard writing, texting, phonebanking, social media sharing, local Beacon of Hope organizing, and much much more! You powered a more massive wave of mom voter engagement than we ever dreamed possible.
The million-strong MomsRising movement moved millions more to get out and vote, moved key policies forward like expanded unemployment insurance and pandemic paid leave and sick days, and is growing in MOMentum each day! BOOM!!
Now, we need to use our voting power to power legislative change like: Emergency COVID-19 relief; Healthcare; Economy, safety net, taxes, and jobs; Criminal justice and policing reform; Workplace justice (including paid leave and sick days); Affordable childcare; Maternal and reproductive health; Fair treatment of all immigrant families; Gun safety; and Voting rights along with democracy protection. YAY!
*So please consider the KAPOW! YAY! BAM! WOW! BOOM! POW! of MomsRising in your end-of-year contributions so we together can help open opportunities for every family to thrive: https://action.momsrising.org/donate/2020_yearend_donation/?source=blog
And thank you for being a true superhero. Yes, YOU! Together, we will keep marching, keep rising, keep sharing our power so that ALL moms and families can experience racial, economic and gender justice.
P.S. There's one more thing you can do: please help us grow this movement by forwarding this message to friends and family. Thank you!
P.P.S. We made a minute-long KAPOW! YAY! BAM! WOW! video on the wins you powered in 2020! (Yes, there's a theme here that you'll see in the video too!) *Check out the short KAPOW video here and please share!