Do you want a sick housekeeper coughing all over your bed?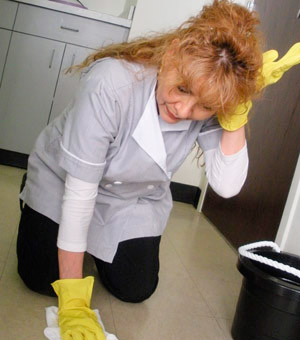 My name is Cathy Youngblood, and I am a hotel housekeeper at the Hyatt Andaz in West Hollywood, California. Those of us who work in hotels come into contact with hundreds of different people from all over the world daily. And of course, some of those folks are going to be sick, whether it is because they don't want to miss their vacation, or they feel like they can't cancel their trip for work. But because I work in a union hotel, we have paid sick leave. It is a real comfort to know that when I get sick, I can take the time I need to get better without losing necessary income.
Before I worked in the hotel, I worked a lot of nonunion jobs. I didn't have health care for 12 years, and there were a number of days when I went to work sick as a dog when I should have been home in bed.
Something as simple and necessary as going to the doctor can be impossible without paid sick leave. I live in Watts, a tough, low income neighborhood in LA. Most of the folks I live with don't even have health insurance. So when they have to go to a doctor, if they can go, they are waiting at a clinic for low income people all day. Without paid sick leave, they lose a whole day of income just for trying to take care of their health.
It is a criminal shame that millions of Americans work for multimillion and billion dollar companies and yet don't have paid sick leave. You can give all the arguments you want, but when you need time off and you are sick, you need to see a doctor, or a family member is sick, your health and family should come first. You should have enough time to regain your health. A healthy worker is the best kind of worker.
And hey, the next time you check into a hotel, wouldn't you like to know the people who cook your food & make your beds aren't making you sick?