DIY Green Skin Care Swaps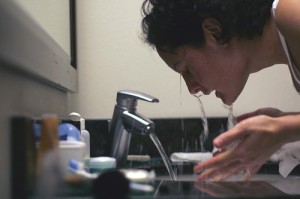 Photo credit: Photo by Flickr user Perfecto Insecto
I used to love flipping through beauty magazines, devouring beauty tips, tricks, and recommendations. It was all so fun, and so out of reach. Because what's the one thing all of those sudsy face washes, rich eye creams, and sleek bottles of toner have in common? Price wise, they add up, and fast.
But I have good news: Skin care doesn't have to be expensive! Using nontoxic, DIY replacements is a great way to:
a) Save money
b) Take toxic chemicals out of your products
c) Save time
Save time? With DIY projects? It may sound crazy, but trust me: Most of these nontoxic skincare swaps use one or two ingredients, usually from your pantry or refrigerator. They probably take less time than going to your local drugstore or beauty counter and making a selection. Don't worry: You don't have to change your whole skin care routine all at once. Take small steps! Replace one item, try a new recipe, and save some money (and avoid some toxic chemicals) in the process.
Face wash: A simple face wash replacement is a mix of one part warm water and one part castille soap. Check the label when you're buying liquid castile soap; Women's Voices for the Earth recommends avoiding sodium lauryl (laureth) sulfate (SLS) and Diethanolamine (DEA). Look for unscented soap, especially if you have sensitive skin. For acne prone skin, try this easy mask from the Campaign for Safe Cosmetics: Mix one tablespoon baking soda with two tablespoons of water, and use the paste as an easy face mask.
Toner: Toners from your local drugstore or beauty counter can be pricey, but DIY versions are surprisingly affordable: In fact, most of them just use ingredients you might already have in your fridge or pantry.  Organic Beauty Vixen has some amazing, budget-friendly swaps for commercial toner, including green tea, lemon juice, and apple cider vinegar.  The Eco Diva recommends rubbing sliced strawberries, grapes, or cucumbers on your face for a natural toner, or trying sliced lemons if you have oily skin.
Exfoliate: Slough off dry skin with an easy, inexpensive sugar or salt scrub. Combine two parts sugar or salt with one part olive oil. For a creamy scrub, replace olive oil with coconut oil. To create finer exfoliating particles, grind your sugar or salt in a coffee grinder.
Moisturize: This is the world's easiest DIY, because you can ditch your commercial product for a one-ingredient, non-toxic alternative. Coconut oil and olive oil make great body moisturizers. You can add a drop or two of essential oil for scent (though coconut oil in particular smells great on its own).
Eye Cream: Like toner, this is another pricey extra that you can create at home at almost no cost.  Organic Beauty Vixen suggests using cold tea bags and spoons to reduce dark under eye circles and puffiness. Campaign for Safe Cosmetics has an easy, two ingredient cucumber eye cream recipe.
Treat Yourself: Give yourself a fancy and fun spa treatment at home, for a fraction of the cost.