Take action!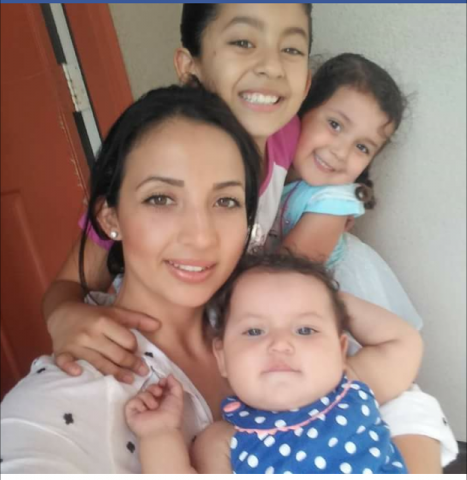 Detained, pregnant and in jeopardy
Maria Solis, a 28-year-old pregnant mother of three who is married to a US citizen, has spent over four weeks at Otay Mesa detention center in San Diego, California, where she fears miscarrying due to a lack of access to the prenatal care she needs. Detaining her during her immigration proceeding in her current condition is inhumane, unnecessary, and puts her life and pregnancy at risk.
Join us and urge U.S. Senator Harris, U.S. Senator Feinstein, Representative Issa and Representative Vargas to push for Maria's release so she can access critical health care for her pregnancy!
On August 1st while Maria was walking to work, she was picked up by ICE and immediately detained, leaving behind three children aged 11, 4 and 2. Solis began living in the U.S. when she was 1 year old. Her husband, 7 siblings and father are U.S. Citizens while her mother is a permanent resident. 
Since her detention, Maria has faced subpar conditions and troubling treatment. Due to high levels of stress, she has been experiencing premature labor cramping. Her sister, Izabel Solis, reports that Maria has been required to deep clean her cell, which requires heavy lifting and exposure to chemicals. Maria has also reported that other women in immigration detention have miscarried and reported their tragic and traumatic experience.
Will you sign the petition to ensure that Maria gets out of detention so she can access the health care she needs and reunite with her children?
In the first four months of this year, 292 pregnant women were held in ICE detention centers nationwide. And according to a Human Rights Watch report, ICE policies unduly deprive women of basic health services, services that are provided are often unconscionably delayed or otherwise seriously substandard.
With President Trump's broadened immigration crackdown, more and more individuals who pose no danger to communities are being picked up and detained for administrative, not criminal, reasons. Across the country, ICE arrests of women have climbed 35 percent in the first four months of this year, compared to the same period in 2016.
As Trump's pardon of disgraced Former Maricopa County Sheriff Joe Arpaio shows (under whose tenure a pregnant inmate was restrained while giving birth, and was not allowed to hold her baby for 72 days after she was born): It's time to stand up against human rights abuses happening in the name of immigration enforcement. If we don't speak up, more pregnant and nursing women are likely to be placed into detention by an administration that is prioritizing bigotry and white supremacy over basic human rights.
Undocumented women and mothers are especially vulnerable right now. We all know that detention is no place for a woman to carry out her pregnancy and give birth. Solis' attorney, Leah Chavarria, said immigration officials have the authority to release Solis on bond or an order of supervision. "She deserves to be released and live her life in the U.S. while she fights her immigration case — she's not a threat to the community, in fact, the community strongly supports her," she said.
Join us and Maria Solis's family to call for her release on parole, bond or supervision, instead of her needlessly suffering in detention!
We will not sit back and watch as the immigration system leaves pregnant women and their children to suffer and die. We will not sit back and accept torture and cruel treatment of human beings based solely on their immigration status as business as usual.
We must stand up together for the lives of pregnant immigrant women and moms,
P.S. Special thanks to our partners Women's Refugee Commission and ACLU San diego for all their help.