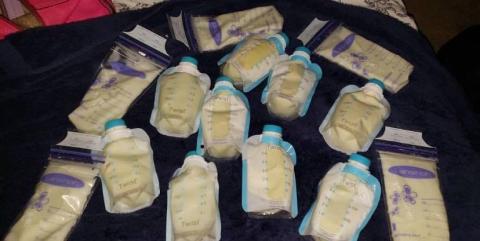 #DeltaDumpsPumps Milspouse forced to hand-express in a toilet after Delta confiscates her pump
We can't believe this is still happening.  Renowned photographer and Navy spouse Shannon O'Hara is no stranger to managing travel while lactating.  But yesterday, Delta Airlines violated their own policy which states 
"Delta fully supports a woman's right to breastfeed on board Delta and Delta Connection aircraft and in Delta facilities. Breast pumps are allowed on board. At the airport and if you prefer, many airports do offer private lactation rooms or spaces. Ask a Delta associate if you need assistance locating one at an airport."
Shannon was forced to gate-check her personal item bag, even after she informed the gate agent at San Diego International Airport that her pump and expressed milk were in the bag.  Then, her connecting flight was delayed for hours in Detroit, meaning that Shannon had to wait over 14 hours between pumping her milk and breastfeeding when she was reunited with her baby.  
In Shannon's own words, she was booked on Delta flight 1648 from San Diego International Airport to Detroit, and flight 2044 from Detroit to Reagan National with a 45-minute scheduled layover in Detroit.  
Passengers were asked to voluntarily check their bags for free, and not enough passengers checked their bags. I was told by the gate agent responsible for boarding the flight that the flight was full and based on my zone, I would likely end up having to check it because none of the higher priority zones had volunteered. I told the gate agent that I had my breast pump and some pumped milk in the bag they're asking to check. 
He asked if I wanted to take the milk out, but I didn't have anything to carry it since my carryon was my purse for this trip. I asked if they had smaller totes he could give me to use to carry my pump in and he said no, and didn't offer for me to carry the pump separately. The flight was boarding, but I ran back to see if I could buy an inexpensive bag in the airport shops. We all know buying anything in the airport inexpensively is a damn joke, so I went and looked to say I looked, but I knew what the deal was. So I just had to grab my wallet and headphones - pretty much anything I could fit in my pockets. I boarded the plane last and left my bag on the jetway. The gate agent ended up being right about the mandatory checking because by the time I boarded in zone 9 with the economy passengers, it was required that everyone boarding with overhead bags check them on the jetway. I'd last pumped at nine am. By the time we took off, it had been three hours since I'd pumped. The flight length was four hours and twenty-five minutes. So, I knew when I landed I'd have to find a way to express my milk. I had a clogged duct and a bad fever a few months ago, and did not want to go back to that. I pumped before leaving for the airport that morning at 9:45am. 
According to TSA regulations and Delta's own policy, breastpumps are allowed on board--because they are medical devices.  When a lactating person is unable to express milk for an extended period of time, it puts them at risk for a number of painful and potentially dangerous breast health issues, including clogged ducts and mastitis.  And despite the gate agent's insistence that even personal items like purses had to be checked, Shannon noticed that nearly everyone in her zone on the flight had their purses with them and were able to stow them under the seat in front of her.   Her pump bag could have fit easily under the seat in front of her.  But wait--things got even worse when she arrived at Detroit.
I was notified of a flight delay when I arrived - The flight time for my next flight, Delta 2044, was pushed back from 8:30pm to 9:33pm. A few minutes later the flight was pushed back to 10:30pm.  We were initially told that another flight to DCA would be available, but that flight was delayed too, so we were advised to go back to our original flight.  At this time, 9:23pm, I received a text that my original flight was delayed until 12:28am. When we finally took off at 12:28am, we were rerouted on the runway due to concerns from air traffic control in Detroit. 
During the hours in the terminal, I was able to access the mother's room in the concourse. But, when my last delay was announced it was after 11pm. I called the number on the door to gain access to the mother's room because for some reason it was locked, but no one answered at all from 11pm until my flight left. I had to express my milk into a toilet in the bathroom at one point because I was in pain due to how engorged I was. I told the gate agent that my pump was in my luggage. She pointed me to the mother's room, but noted that without the pump, it wouldn't be much more than a nice place to relax. She apologized for the flight delay. 
When the flight landed, I received my baggage. I was able to nurse my baby at the airport pick up outside of baggage claim when my husband picked me up. It was 3am. 
"I had to express my milk into a toilet in the bathroom at one point

because I was in pain due to how engorged I was."
Where do we even begin?  Delayed for four hours in the Detroit terminal, Shannon was denied access to her pump, even though it was in the bag that had been gate-checked at her departure terminal, and therefore should have been easily accessible.  Although she initially was able to access the mother's room (and thanks DTW, we appreciate that you have a mother's room, in compliance with the FAM Act), it was locked at 11pm, an hour and a half before her flight took off.   Because, evidently, Detroit airport staff believe that milk stops flowing after 11pm--despite the fact that babies famously wake to feed throughout the night.  With a history of clogged ducts and infection, Shannon knew she couldn't risk waiting out her engorgement, and she was forced to hand-express into a public toilet at the Detroit airport.  
We are outraged at the way Delta employees repeatedly ignored her biological needs and their own policy.  Military spouses are seasoned travelers.  Working military spouses, even more so--we know how to pack efficiently in order to comply with all regulations and avoid situations just like this one.  We call on Delta to make this right for Shannon and compensate her for the time and physical and emotional pain to which she was subjected.  But more importantly, we want Delta--and ALL airlines--to train their employees to STOP treating breastpumps and expressed milk as anything other than what they are--valuable cargo and a medical necessity for the lactating parents and breastfed babies who rely on them.