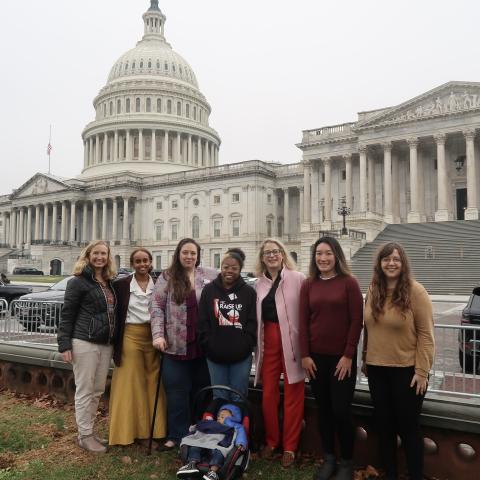 Day in the Life: Follow MomsRising on a Child Tax Credit Day of Action in Capitol Hill!
One year ago today (December 15th, 2021), the last expanded monthly Child Tax Credit payments went out. These checks were a huge relief for families to help pay for necessities like medical bills, rent, food, childcare, and more. MomsRising members across the country raised their voices in response!
Last Wednesday, we had an incredible Child Tax Credit Day of Action. We held a National Call-In Day for the CTC: text CTCNow to 747464 to connect with your U.S. Senator's office and demand they extend the expanded Child Tax Credit in any end-of-the-year tax package!
We also had a #CTCNow Digital Day of Action, sharing some of our powerful member's stories on how the expanded CTC lifted their families, statistics showing the positive influence the expanded CTC had on supporting families and lowering childhood poverty (by almost 50%!), our CTC petition page demanding Congress extend the CTC, and more actions people can take on the expanded CTC!
Simultaneously, we also had an amazing and impactful day on Capitol Hill meeting with Members of Congress and advocating for the expansion of the Child Tax Credit to be a priority for Congress to extend before the end of the year in any tax package. Our superstars joined us for all the fun: North Carolina mom of one Eshawney and New Hampshire mom of two Amber! 
10:15 am - We first met with NC Senator Burr's office to discuss how important the expanded Child Tax Credit would be for families like Eshawney's!
11 am - We next had a wonderful meeting with one of our CTC champs Senator Maggie Hassan from New Hampshire where Amber and MomsRising Campaign Director Nancy got a chance to share their stories on how the CTC boosts their families!
12 pm - We grabbed some delicious food for lunch while Amber had an incredible phone interview with NPR (did we mention they are superstars)!
1:30 pm -  We headed over to our Child Tax Credit press conference we co-sponsored with Community Change and Economic Security Project to tell Congress to prioritize extending the expanded Child Tax Credit. We were joined by CTC Champions Sen Sherrod Brown, Senator Michael Bennet, Senator Cory Booker, Representative Suzan DelBene, Representative Rosa DeLauro, Representative Ritchie Torres, and more advocates!
2 pm - Our press conference begins (watch the full event here)! Amber gave a passionate speech about her struggles during the pandemic that led to her losing her job and home and how difficult it has been to care for her children's medical needs. The Child Tax Credit has been one of the few things that has provided real help and stability for her family! Eshawney also discussed the need for the expanded Child Tax Credit to offer her family some much-needed relief on childcare and other expensive care needs!
"...I'm especially passionate about making the Child Tax Credit fully refundable, so families with little or no income can access it....it will help stop that perpetuation of poverty that plagues everyday people." - Amber
"We're all going through the same thing…. Being with Amber, seeing her story and how her daughter has medical needs - my son has medical needs….Our stories are the same…. Now we really need [Congress] to pass [the expanded Child Tax Credit]!" - Eshawney's takeaway from our Day of Action
We again want to thank our incredible moms Eshawney and Amber for joining us in Washington, D.C. to advocate for the expanded Child Tax Credit! If you feel as energized as we do to fight for the expansion of the Child Tax Credit, look below for more ways to act: