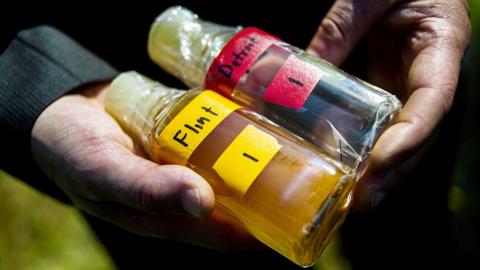 Congress: Take action for Flint families NOW!
Tens of thousands of you have spoken out with outrage over the Flint Water Crisis. Now we need you to take your voice to the next level—we need you to speak out to the U.S. Congress!
After weeks of negotiations (seriously…what do they need to negotiate!?), the U.S. Senate is close to reaching an agreement on an emergency aid package to help the families of Flint.
The families and children of Flint need your strong voices to push this important legislation to the finish line.
Tell the U.S. Congress TODAY to support the residents of Flint and pass emergency funding ASAP! Don't let them vote without hearing from as many of us as possible!
As someone who only lives an hour away from Flint, I have watched this story unfold with anger, horror, and sadness. It is outrageous that the water in some areas of Flint is still unsafe to drink, bathe in, or use. It is even more outrageous that hardly any water pipes filled with lead have been replaced. Many experts say the contaminated pipes could be replaced fairly quickly and relatively cheaply but so far not enough funding has been allocated to Flint at both the state and federal level, so the work is being held up. Meanwhile, the children of Flint are suffering!
We keep hearing rhetoric about the Flint Crisis but what we really need is action….and money! The bill before Congress would provide funding to help water contamination problems and invest in health programs in Flint. And while we know there is so much more that is needed in Flint, this is a positive and critical step for our federal government to take.
This is why we need YOU to reach out to your members of Congress NOW and tell them to support the families of Flint!
For two years, the water coming from the taps in Flint homes has been toxic. Thousands of children in Flint now risk serious danger to their health because of exposure to lead. The proportion of children with elevated blood lead levels in Flint has at least doubled—in some neighborhoods, the proportion has tripled. Why? Because a manager appointed by the state wanted to save money by switching the water supply to the Flint River. The high levels of corrosives in the Flint River caused the lead in Flint's pipes to leach into the water.  Yet, officials denied anything was wrong, as they failed to follow federal guidelines around lead safety and utilized faulty water testing techniques. Inexpensive steps to prevent this were not taken so now, most people in Flint cannot safely use their tap water.
This is a disaster and a public health emergency. And yet Congress has not acted to provide help yet!
Now is our opportunity to make sure our U.S. Representatives and Senators do the right thing by the families of Flint. Speak out now and tell Congress to "stand up for Flint families!"
We are going to need all the voices we can get to speak up for the families of Flint, so once you take action please post the action link to Facebook.
Thank you for standing up for the families of Flint!