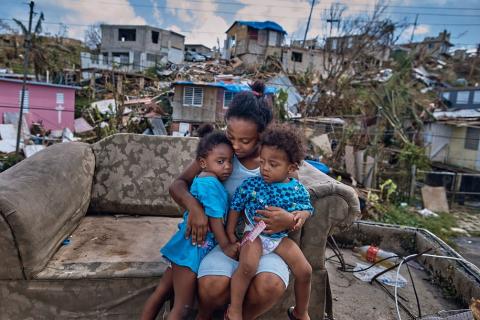 Climate Change Is Here, Now, Affecting Us Intensely. Why Aren't We Talking About It?
This piece originally appeared in the Daily Kos. 
To say that the last month has been intense is an understatement.
I have family in Puerto Rico – my grandfather, aunt, uncle, cousins and the rest of my mother's extended family– and like every other Puerto Rican on the island, they are feeling the wrath of Hurricane Maria. Many are still without power while others have had to leave their homes due to flooding. The communications system is spotty at best, and there are lines everywhere, from bread lines to people desperately awaiting care packages from loved ones on the mainland.
The death toll (as high as 450), missing people, and mass migration of more than 100,000 people to Orlando, Florida alone, have been devastating for a tiny island of 3 million people. 
Meanwhile, I have a dear friend whose family lost their home in Glen Ellen, California, due to the fires there. A friend's neighbor recently had to drop everything to fly to Texas to help her aging parents recover from Hurricane Harvey. With July's temperatures the hottest on record and the Gulf of Mexico 7 degrees warmer than average, the conditions were primed for catastrophe. 
Throughout the scrambling to help in any way that I can – texting, offering condolences, and attending fundraisers like this one in San Francisco this weekend -- I can't help but think there is a lost opportunity here.
It's clear that the magnitude of these natural disasters isn't…natural. These fires, droughts, and hurricanes are breaking records and costing us massive emotional pain and money. Yet, we are only focused on the short-term: relying on private charity to meet people's immediate needs – and not all of them -- with no long-term strategy to protect our homes and environment from the impact of climate change. As I often tell people in private, I don't see myself ever returning to my native Miami because I think investing in real estate there is a poor decision. With rising sea levels and Miami sinking and flooding, what insurance company is going to keep securing property that may cease to exist? 
All of which leads me to what I've been thinking in the last month: What will it take for us to start tackling the threat of climate change? Heck, what will it take for us to even talk about it?
The media response has been non-existent. Meanwhile, the Trump Administration has expunged climate change resources from the Environmental Protection Agency website, and scrapped rules by the Obama Administration to curb the coal power plant emissions that are driving global warming, thereby strengthening hurricanes like Maria and Harvey.
Texas's Harvey caused the uncontrolled release of 4.6 million pounds of air pollutionfrom refineries and chemical plants across 13 counties, including known carcinogens. Toxic chemicals flowed through the floodwaters across the region. A former CEO of Shell Oil is now tasked with leading Houston's recovery efforts, so taxpayer money will likely prop up the same industries that caused many of these problems in the first place.
If all of this wasn't outrageous enough, amidst so much suffering in Puerto Rico, Trump declared, "I hate to tell you, Puerto Rico, but you are throwing our budget out of whack."
I expect this from Trump. But it's been disappointing – and scary! – how even the average person bearing witness to such suffering doesn't mention climate change or even denies it is an issue in record-breaking hurricanes like Maria.
The other day, a fellow Latino right here in the progressive Bay Area told me that hurricanes like Maria were in the Bible, and that they are occurring due to our lack of belief in God. I immediately responded that Puerto Ricans in general are a devout people. My family members on the island are practicing Catholics, Pentecostals, and Baptists. If God punished them, out of all people, with Hurricane Maria, then the rest of us are really screwed.
That exchange rattled me. I've always, quietly, tried to live a more sustainable life by shopping at our local farmer's market, preparing vegetarian meals at home, and taking public transportation. However, I know that these actions won't have the same impact as good public policy or collective action from citizens across the United States and the world. Combating climate change at the magnitude that we need goes beyond any one of us: we will have a greater impact if coal power plant emissions are curbed, if we eschew the build-out of fossil fuel infrastructure, and join our allies in the world to collectively take action such as the Paris climate accord that the Trump Administration backed out of.
Trump's irresponsible response to this issue has made me feel angry, helpless, but also helped build my resolve. Ever since his election, I have found myself more involved in my local community, trying to educate myself and the wider community on what we can do collectively to resist bad policies on the federal level. One of those areas is how to lower our carbon emissions on the local level and set an example for the rest of the nation.
At the Ecology Center — a local non-profit where I serve as a board member -- we are working with other organizations to promote policies that get us away from an economy fueled by oil, gas and coal, towards renewable and sustainable energy sources. We've been organizing the community to fight against the expansion of fossil fuel infrastructure, fighting the plastics industry -- an increasingly earth-destroying arm of the fossil fuel industry – and training the next generation of environmental justice advocates through our Youth Environmental Academy. 
The Ecology Center is a tiny organization in a small city in a massive country. But four decades ago we introduced the country's first recycling program, and now that is a mainstream practice. Can we do it again with climate change awareness and action? I certainly hope so. We don't have a choice.  
Who's with me? What are you all doing to help combat climate change?
This piece was adapted from a fundraising appeal I made on behalf of the Ecology Center of Berkeley, California. If you are moved to, please donate to the Ecology Center, or seek out non-profit organizations or community groups where you live that are actively engaged in taking action on climate change. It's going to take all of us! With love and urgency, Elisa