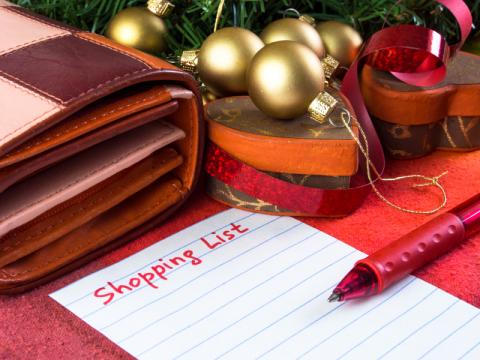 Choosing Nontoxic Holiday Gifts for Children
Last-minute holiday shopping for the kids in our lives can be stressful. We want to make sure we give them gifts that they'll love and that are also good for them.
Unfortunately, outdated toxics regulations don't make it any easier on parents trying to find safe, nontoxic gifts that we can feel good about giving. According to Safer Chemicals, Healthy Families, there are more than 80,000 chemicals on the marketplace, very few of which have ever been tested for safety.
Many of these chemicals can be found lurking in children's toys, clothing, and even in our mattresses and car seats. In 2008, for example, Washington state passed a law requiring makers of children's products to report if their products contained any of "66 Chemicals of High Concern to Children." In the first six months of reporting alone, there were 4,605 reports of these chemicals in children's products such as toys, clothing, baby safety products, and bedding. A total of 49 chemicals such as formaldehyde, bisphenol A (BPA), parabens, phthalates, heavy metals and industrial solvents were reported in products from dolls to toy cars. Some of these chemicals have been linked to early onset puberty, learning deficits, impaired IQ in children, infertility, cancer, and other negative health impacts.  You can learn more about their findings at http://www.watoxics.org/publications/whatsonyourlist_report_final.pdf.
Protecting children from toxic chemicals is particularly important because their little bodies are especially vulnerable to exposure to these chemicals. As described page 23-24 of a recent petition to the Consumer Product Safety Commission, children spend more time on the floor and their hand-to-mouth habits mean that they come into more direct contact with chemicals found in household dust or on the surface of products. At the same time, their bodies are smaller and absorb more chemicals, their developmental processes can be more easily disrupted. 
But avoiding these chemicals can feel impossible. Toys don't come with ingredient lists, leaving parents struggling with limited information on what's in the products we buy. The truth is that all products should be safe to begin with. No parent should have to do research simply to find out if the gifts they are giving their child are free of toxic chemicals.
So, what's a parent to do? Groups like MomsRising.org and our partners are working both here in North Carolina and nationally to get to a place where all chemicals have to be proven safe before they end up in the marketplace. But in the meantime, Women's Voices for the Earth has put together some great holiday gift-giving guides for kids, moms, and dads that include gifts and stocking stuffers that you can feel good about giving.  You can check them out at: http://www.womensvoices.org/2015/11/27/non-toxic-holiday-shopping-guide-gifts-for-kids/
And right now, parents have a unique opportunity to make our voices heard to get one type of toxic chemicals out of our homes completely. Earlier this year, pediatricians, firefighters, scientists and advocates came together to petition the Consumer Product Safety Commission to ban toxic flame retardants from four categories of household products. These flame retardants have been linked to infertility, cancer, learning deficits, impaired IQ in children and many other negative health effects, while lacking a proven record of actually preventing fires.
Between now and Jan. 19, the US Consumer Product Safety Commission is accepting public comments on whether they should remove these toxic flame retardants from household products such as mattresses, couches, children' products and electronics. You can add your voice by signing MomsRising's petition at: http://action.momsrising.org/sign/tell-consumer-product-safety-commission-get-toxic-flame-retardants-out-mattresses-childrens-products-couches-and-more/
Right now there's no easy answer to making sure the gifts we give our children are safe and nontoxic. Smart shopping can help limit your families' exposure, but sadly, we can't shop our way out of this problem. But if we act now, we can hope that next year's holiday shopping will be easier! Wouldn't that be a great gift?
Originally published at Carolina Parent at http://www.carolinaparent.com/CP/Choosing-Non-Toxic-Holiday-Gifts-for-Children/; cross posted by the author with permission.
Beth Messersmith is a Durham, NC  mom of two and NC campaign director for MomsRising.org.