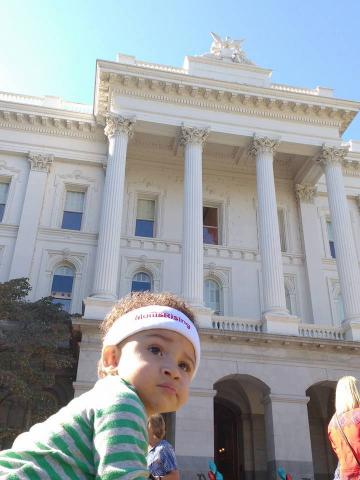 California: Let's do Big Things for our Little Learners in 2018!
I just returned from maternity leave after spending 4 months at home with my happy and healthy second child, only to read that California ranks third in the country for most unaffordable infant care! [1] To put it clearly, I'd spend less if I went back to college for a second degree compared to paying for infant child care in our state. WHAT!?
That's just NOT okay.
Just last week, Governor Jerry Brown released his proposed 2018 budget and we need your quick help. We're happy to report that for the first time in years, the proposed budget does not include increased cuts to rates and childcare slots, and it does expand on the Governor's promise to increase funding over the next few years -- yet we're still painfully behind where we were pre-recession [2].
Add your signature now and remind the Governor and our state legislators that we are counting on them to do big things for our littlest learners this year in Sacramento!
Without greater investments in early learning, California children will have less access to high-quality early learning opportunities like preschool and childcare that will help them build the foundation to achieve their greatest hopes and dreams.
At a time when the cost of childcare outpaces the cost of college tuition in our state, families should not have to face the difficult dilemma of how they will pay for high-quality care or preschool opportunities. Here in Sacramento, only 32% of 3 and 4 year olds attend a preschool program, and 25% of our kids are living in poverty [3]. We need leaders in Sacramento to step up and invest in our littlest learners.
The case for early learning couldn't be more clear. Investing in early learning is good for families, businesses, and the economy. Children who have high-quality early learning experiences are more likely to succeed in school, graduate from high school, gain stable employment, and are less likely to be arrested later in life. And when families have access to quality early learning opportunities, parents are able to focus on work without the stress of unreliable care. Not to mention that investments in high-quality early learning programs actually save future dollars for everyone. In fact, high-quality early learning has the potential to prevent the opportunity gap before it even starts. It's no surprise that high-quality early learning programs for children from birth through age five produce a 13% per year return on investment through improved results in education, health, social behaviors and employment.[4]
Tell the Governor and your state legislators that we need investments in early learning now. 
The more of us who make our voices heard, the bigger the impact we'll have together. So please forward this email to friends, and post the action link on Facebook and Twitter, too.
Together we are a powerful voice for children and families in California.
[1] Child Care Aware: "Parents and the High Cost of Childcare: 2017"
[2] "Brown's final budget plan proposes $132 billion in spending", Southern California Public Radio
[3] Children Now, 2016-2017 California County Scorecard
[4] Garcia, Heckman, Leaf, and Prados: The Lifecycle Benefits of an Influential Early Childhood Program, 2016