California Chinese Forums Provide Straight Talk on Obamacare
Cross posted with permission from New American Media.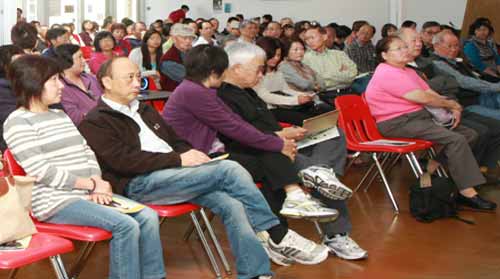 New America Media, Question & Answer, Summer Chiang, Posted: Nov 03, 2013
Photo: Chinese Americans listened and asked questions at one of two Sing Tao Daily expert forums on the Affordable Care Act in California.  
The Chinese-language Sing Tao Daily newspaper drew more than 325 people to two free seminars on the Affordable Care Act (ACA), or Obamacare, on Oct. 26 and 27.
Each session focused on what the options are for health coverage under the new federal reform law both for small businesses and as families or individuals. They were held in the Northern California communities of Millbrae and Sunnyvale, and included simultaneous translations in Chinese.
Speakers included Jimmie Thompson and Duc Pham, representatives of the state's Covered California program. Also there were certified health insurance counselors Simon Chew and Andy You, and certified public accountant Rong Fu.
Following are some of the most frequently asked questions from Chinese attendees during the seminars.
When is the deadline to buy health insurance? If I don't have health coverage in 2014, will I get any penalty?
The deadline to sign up has been extended to March 31, 2014, to avoid any tax penalties. The penalty in 2014 is calculated in two ways. You'll pay whichever of these amounts is higher: 1) 1 percent of your yearly household income, or 2) $95 per person for the year ($47.50 per child under 18). The maximum penalty per family using this method is $285. The fee increases every year. In 2015, it will be the lower amount of 2 percent of income or $325 per person. In 2016 and later years, it will increase to 2.5 percent of income or $695 per person.
Does Covered California have Chinese-language service to help me buy the insurance?
Yes, please call 1-800-300-1533 for Chinese-language services.
I am an immigrant and hold a green card. My parents have green cards as well, but they live overseas. If they are going to visit me next year and plan to stay here for a while, do they need to buy health insurance? If they are not covered by health insurance in 2014, will they get any penalty?
If your parents don't have a job and income, they don't need to buy health insurance and may be qualified for Medi-Cal. However, if they start working, they may need to purchase the insurance if their income is over $15,856.
What is Medicare? What is Medi-Cal? What is the difference between those two?
Medicare is a federal health insurance program for people who are age 65 or older and certain younger people with disabilities.
If you have Medicare, Medi-Cal or both, you do not have to obtain additional insurance.
Medi-Cal is California's version of the federal-state Medicaid program. Medi-Cal is the health care program for low-income individuals who make $15,856 or less per year. This program pays for a variety of medical services for children and adults with limited income and resources.
Beginning Jan. 1, 2014, California will expand Medi-Cal eligibility for some low-income adults, who did not previously qualify. When you complete a Covered California application, the program will automatically determine your eligibility for Medi-Cal.
The Covered California website requires me to fill in an estimated income in 2014. I am not sure of my income level next year. Can I ask what happens if I estimate it wrong?
If your income changes over the year, your tax credit will be adjusted accordingly. If your income increases, you will have to pay the difference at tax time, or by notifying Covered California, who will adjust the assistance you receive in paying your insurance premium. If your income decreases, you can receive additional tax credit.
Will it affect the premium cost if my parents from overseas visit me?
If your parents are documented residents and stay in the states over a half year, you may claim them as your dependent. This would help lower your premium cost and provide you some tax credits. If your parents are 65 or older, they may be eligible to enroll in Medi-Cal.
I am a U.S. citizen but I live overseas several months each year. Do I have to buy health insurance? What will happen to me if I am not having health coverage in 2014?
If you live outside of the United States over 330 days during a year, buying health insurance is an option to you, and you will not get any penalty by not having health insurance.
How can I receive financial help from the government?
There are three ways:
Premium assistance—Federal help will be available to reduce the cost of an individual's or family's monthly health insurance payments.
Cost-sharing assistance—Cost-sharing subsidies reduce the amount of health care expenses an individual or family has to pay at the time of medical care.
Medi-Cal assistance—Starting in 2014, Medi-Cal will cover more people under age 65, including those with disabilities and others with incomes $15,856 or less a year for a single individual and $32,499 or less for a family of four. Medi-Cal is free for those who meet the requirements.
What does "region code" mean? Will that affect premium cost?
There are 19 pricing regions in California. The price of health plans varies by region.
How do different income levels affect premium cost? Does the number of household members affect this expense?
Premium prices are not only affected by your income and household size. Some people may think, "I earn more so I need to pay more." But premium prices are also based on your age, where you live (ZIP code), and the health plan and benefit level you select.
An easier way to get a general idea of how much you might pay for insurance premium prices is to use Covered California's online Shop and Compare Tool. It will show how much you would pay for health insurance plans and enable you to find out whether you are eligible for any premium assistance or cost-sharing subsidy.
If I don't have an agent, where I could buy the health insurance?
You can purchase the insurance through Covered California website or call 800-300-1506 (English language), or 800-300-1533 (Chinese language).
If I have insurance provided by my company, do I still need to buy another insurance? What if I am not satisfied with the insurance that my employer offered to me?
If you already have health insurance covered by your employer, you do not need to buy anything else. If you are paying more than 9.5 percent of your household income toward insurance premiums, then you may be eligible for financial assistance available.
If you have insurance from your employer and apply for assistance to pay your premiums, Covered California will determine whether your current health plan is affordable and provides adequate coverage. If that coverage is determined to be affordable and adequate, then you cannot receive government premium assistance for new insurance.
Am I eligible for Covered California?
Documented California residents are eligible to buy insurance through Covered California, as long as they do not have other affordable coverage under ACA, such as employer-provided insurance or Medicare.
I am a small business owner. Am I required to buy insurances for my employees?
Small business owners with 1-50 employees have the option of providing health insurance to their workers. Those who prefer not to do so should inform their employees they will need to obtain a health plan themselves.
If I am covered by a company's health insurance, but my family members are not, can I still buy insurance from Covered California?
If you have insurance through your job, but your spouse or children are not covered through your employer's plan, you may be eligible to use Covered California to get insurance for the rest of your family.
I am 44 years old earning $30,000 annual income. The zip code where I live is 94105. The household size is four, including my wife, two kids (both under 18 years old), and me. Can you help me to do the calculation on how much I have to pay for our insurance?
According to the Covered California website, your low-income level qualifies your family for the "Enhanced Silver 87" plans. This insurance provides assistance with out-of-pocket costs, in addition to help in covering your premiums. Enhanced Silver 87 plans cover an average of 87 percent of costs, meaning you would pay only 13 percent of the costs.
You could also select a Bronze, Gold or Platinum plan. Platinum plans have the highest premium, yet if you have health care expenses under these plays, they pay 90 percent. Bronze plans have the lowest premium, but pay only 60 percent of covered health expenses. It's important to think about how much health care you will need when choosing a level.
If you select an Enhanced Silver 87 plan, for example, you would see a choice of four different healthcare providers -- Chinese Community Health Plan (CCPC), Anthem Blue Cross, Blue of California, and Kaiser Permanente. For a lower-income family with two adults and two children, the payments for these plans range from $51 to $115 per month.