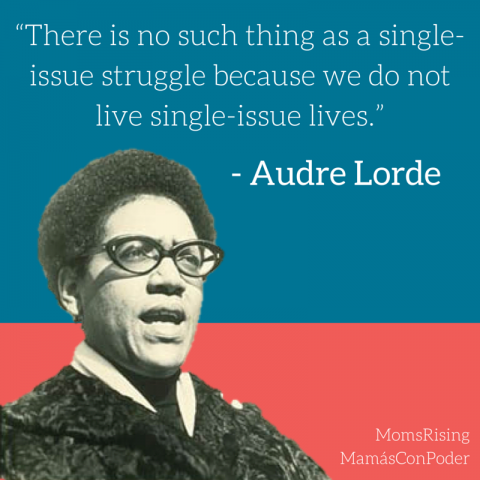 Blog Carnival: A Celebration of Women's History Month & Building an Intersectional Movement
At MomsRising, we're building a movement that is reflective of the diversity, contributions, and needs of families in the United States. This means that our membership mirrors the U.S. Census in terms of racial and ethnic composition, that we have a multicultural team, that families with one or two parents, parents who identify as LGBTQ, parents of all races and ethnicities — parents who simply want to make change with us — are all coming together.
This Women's History Month, we celebrate the achievements of women across social justice movements, particularly those whose names and stories are often left out of textbooks and the media. It's also an important time to reflect on the future of our work and ensure it always reflects the intersectional nature of the issues our families and communities face. 
 
Audre Lorde, a Caribbean-American lesbian writer and civil rights leader, said it best: "There is no such thing as a single-issue struggle because we do not live single-issue lives."
At MomsRising, as a million member multicultural organization working to end discrimination against women and promote family economic security, we prioritize deeply listening to and engaging with our members, volunteers, and audience. There is an organization-wide understanding that the "isms" like sexism, racism, classism, and heterosexism are rarely found alone. We know that where we see the impact of one "ism" like sexism, we will more likely than not find a double impact of another "ism," like racism.  Because of this, MomsRising has a Raising All Voices Initiative across all programs to listen to, and to follow the lead and priorities of, moms in traditionally underrepresented communities.
In addition to working on issues such as fair pay, paid leave, affordable childcare, and healthcare, the Raising All Voices Initiative has meant that MomsRising is working on public policies like advancing immigration policy reform (two-thirds of people impacted by immigration policy in our nation are women and children); and it has also meant that MomsRising takes a strong stand against racial profiling and police brutality. No mother should have to fear that her child could come to harm at the hands charged with protecting them. We have also launched a Spanish language web site,
MamásConPoder.org
, at the request of our Spanish-speaking members.
In the spirit of Women's History Month and in honor of our foremothers whose shoulders we stand on, we hope you'll join us in celebrating their legacy, exploring the issues facing women and families today, and committing to being the best allies possible to one another and in all communities.
* Join us! Celebrate Women's History Month by taking a look at this list of important blog posts and articles. Leave comments, share your own stories, and get involved! 
Today's Work: 
Lessons for Allies: