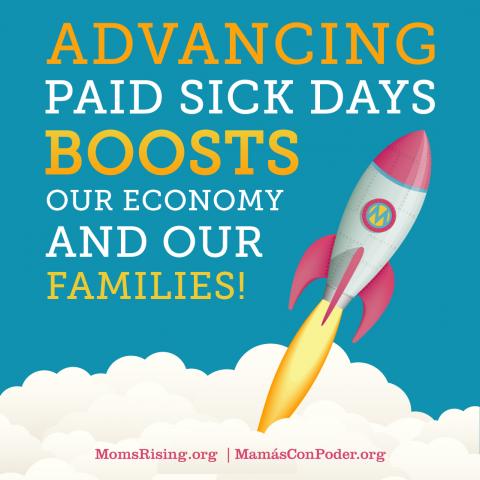 BLAST OFF for #PaidSickDays!
MOMentum for paid sick days is rocketing forward! Now
17 cities and 3 states
across the United States have paid sick days laws on the books. And…drum roll please…on February 12th, U.S. Senator Patty Murray and U.S. Representative Rosa DeLauro introduced the Healthy Families Act, a nationwide paid sick days bill. 
I'm still elated because with
80% of low-wage workers
lacking a single paid sick day, our families, and our economy need a boost like this!
But this isn't a done deal yet. We need your help.
Taking just a moment now to click the link to sign on will have a lasting impact as we deliver your signatures in person in Washington, D.C. in the coming weeks. Your voice matters, and your voice is needed.
There's no doubt about it – MOMentum is boosting the campaign for paid sick days. MomsRising members filled the front row of the bill introduction press conference and Rebecca Feibel, a MomsRising member from Maryland, even shared her story at the podium right beside U.S. Senator Murray and Congresswoman DeLauro. (Click the link in the PS section to see pictures!)
The truth is that we ALL get sick (I'm sure you know at least one person who has had a cold or the flu this winter if you were lucky enough to stay healthy!), but not everyone in the United States has access to the time off they need to get better. In fact, right now
4.3 million Americans
— more than four in ten private-sector workers and 80% of low-wage workers — can't earn a single paid sick day for when they or a family member is sick.
Getting sick isn't a problem that just stocking up on tissues will solve. Not having paid sick days means too many people have to make an impossible choice between going to work sick (and risk infecting coworkers and customers) or staying home and losing an invaluable day's pay, or sometimes even losing their job.
As a child care provider, MomsRising member Rebecca saw just how important paid sick days are for families' economic security and health. At the press conference she shared:
"For 16 years I worked with children ranging from 2-16 years old and saw firsthand the high price that parents, children, and childcare givers must pay when people don't have paid sick days. That 'price' is steep and harms both the financial and physical well-being of all involved."
More than half
 of all working mothers in the United States (54%) do not have any paid sick days they can use to care for their children when they get sick. We can do better.
It's not rocket science: That's bad for families, and it's bad for our nation's economy!
I'm so inspired by the progress and victories happening in cities and states across the nation, but all working families need paid sick days, and access to paid sick days shouldn't be a matter of geography. We need a national standard. And that's why Congress can't pass the Healthy Families Act soon enough.