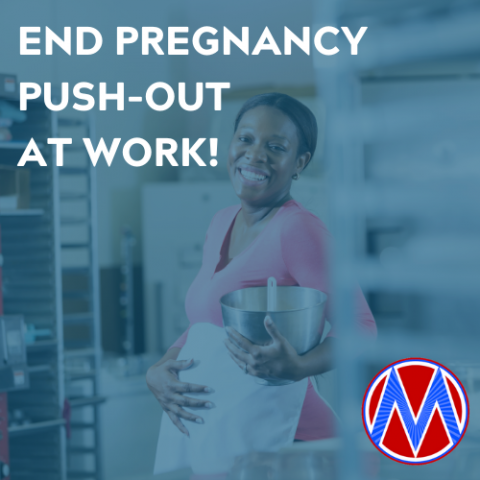 Because working people make the holidays possible…
Our economy wouldn't exist without the power of working people. Even holiday celebrations wouldn't be possible without our labor.
Whether you celebrate Hanukkah, Winter Solstice, Festivus, Kwanzaa, or Christmas this month, it's farm workers, package delivery drivers, cashiers, hospitality staff, and so many other frontline members of our communities that make holiday traditions possible.
HERE'S THE PROBLEM: Pregnant workers in these important jobs are the likeliest to need, but not have access to the basic, but very important protections and accommodations in the Pregnant Workers Fairness Act (S. 1486).
Why? Because despite already passing the U.S. House of Representatives this year and having broad bipartisan support in the U.S. Senate, this important legislation has still not passed.
ACTION NEEDED: Click here to urge the U.S. Senate to PASS the Pregnant Workers Fairness Act. For the holidays, we want this bill to become law!
The Pregnant Workers Fairness Act will require employers to make the same sort of accommodations for pregnant workers that are already made for employees with disabilities. These accommodations are simple things like being able to sit down or have a water bottle on shift. 
As you can imagine, pregnancy discrimination has dire consequences for a family's economic security because it can leave pregnant workers without a paycheck at the moment they need it most. Overrepresented in physically demanding jobs, women of color and immigrant women are especially impacted by employers refusing to accommodate pregnant workers with medical needs. 
Nobody should ever have to choose between their job and the health of their pregnancy, but too many workers still face this impossible choice today.
>>> TELL YOUR U.S. SENATORS TO PASS THE PREGNANT WORKERS FAIRNESS ACT WITHOUT DELAY!
All decisions around pregnancy and parenting are valid – and nearly 85% of women will become mothers at some point in their working lives. By continuing to work, pregnant workers can generate critical income while gaining seniority on the job. But when pregnant workers are fired for requesting reasonable and medically-necessary accommodations, their family's economic security suffers and they struggle to re-enter a job market that is often biased against pregnant people and new parents.
Don't forget! Click here to urge the U.S. Senate to PASS the Pregnant Workers Fairness Act. For the holidays, we want S. 1486!
PS - Did you work while pregnant? Did you need any accommodations? Tell us about it here!