Because It's 2015, I Demand More
Because it's 2015, I can't see these pictures and not act.
Because it's 2015, you can't sit by anymore either.
Because it's 2015, we can't let ourselves say "but I like being the #2."
The powerful images put out by Elle UK were all too familiar. They featured some of the most recognizable global female leaders, from Angelina Jolie to Angela Merkel, as the sole women in the room. Men removed, it showed how desperately we need more women, and, not just at the top levels of leadership. I travel the country encouraging and training women to consider local office or get appointed to a board or commission — and I am still seeing the one and only, even in 2015.
This election, Jordan Sauers becomes the first person of color to serve on the Northglenn City Council in Colorado. She is a dynamic 23-year-old Latina who joins several other "first and only" newly electeds, like Emily Larson, first female Mayor of Duluth, MN, and Bronx, NY, District Attorney Darcel Clark, the first female, and woman of color, to hold that post. From rural America to our urban centers, too many of our local boards and councils have just one or two or, even worse, no female representatives. It's an even bleaker picture for women of color.
I applaud Canada's new Prime Minister, Justin Trudeau, for diversifying his cabinet not for delivering on his promise of gender balance, but for recognizing geography and for reflecting the ethnic and racial makeup of his country. Trudeau's candid answer about why his appointments look so drastically different than the past struck a chord, "Because it's 2015."
It's 2015, America, and for the Los Angeles City Council that means Nury Martinez is the only woman with a seat at the table. It's a 16 member council. The South Carolina State Senate just elected their second woman in over a decade, Margie Bright Matthews, who fills the seat held by the lat Sen. Clementa Pinckney, killed in the Emanuel AME Church shooting. There are 42 members of that political body. Carly Fiorina stands as the lone woman amidst over a dozen remaining Republican Presidential candidates.
Whether it's Hillary Clinton in the Situation Room or Emma Watson testifying at the UN, the pictures leave you desperate to get more Jordans, Nurys, and Margies in the seats of power. Because it's 2015. Because the talent is there. Because the women are ready. Because our leadership makes a difference.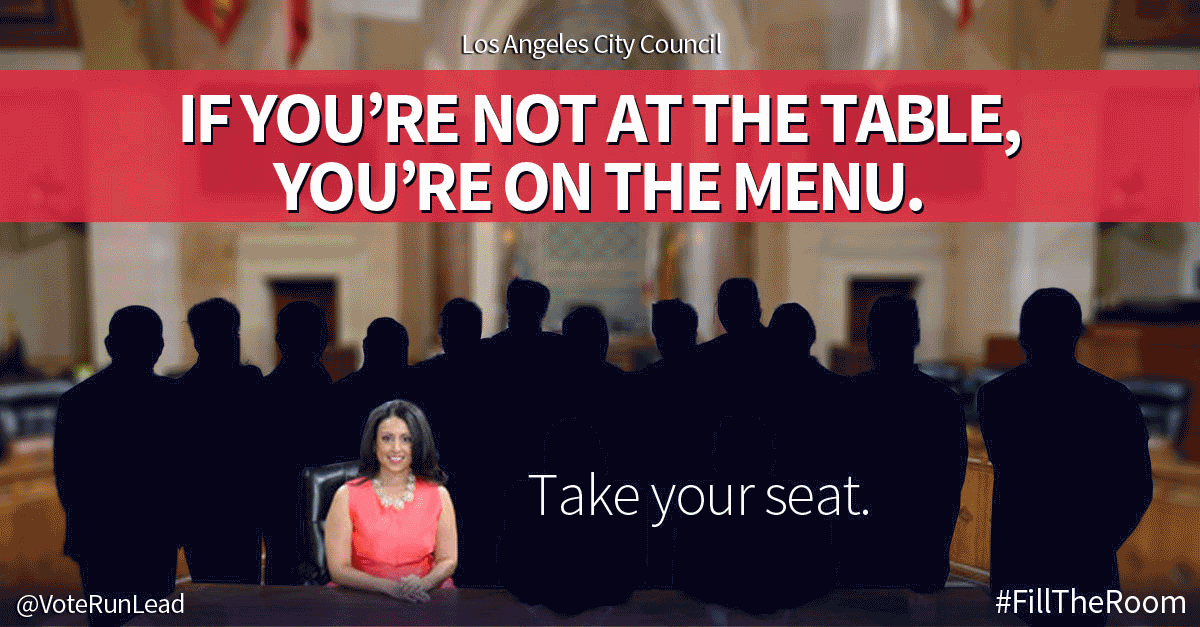 Here's the real truth. We can't count on the political parties or wait for the Justin Thoreau's to appear in all 50 states. We have to do it ourselves. Research shows that asking women to run works. When you ask, you help a woman fuel her own ambition. The more you encourage, the more you fuel her. And, when she runs, she is just as likely to win her race as any man.
Because it's 2015, we can change this picture. Right now, you can nominate one woman who you admire. Whether she is ready to run or just a badass lady — she will not only appreciate the recognition, but she just might be taking the first step towards something powerful.
Here is to a better 2016.