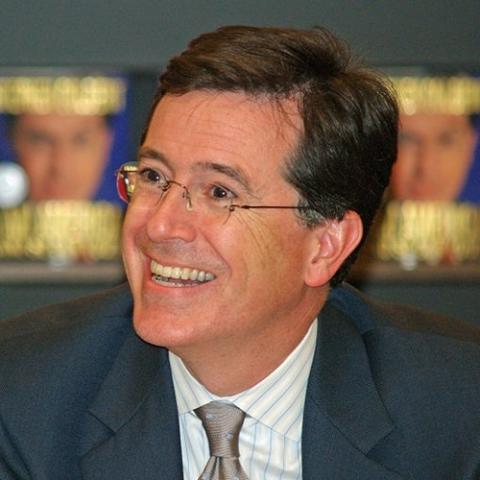 Almost No Women Onstage or Offstage at Late Night with Stephen Colbert
"Point is, I'm here for you, and that means I'm going to do my best to create a Late Show that not only appeals to women but also celebrates their voices."
—Stephen Colbert in Stephen Colbert Shares Why He Thinks Women Should Be In Charge of Everything
Last month newly minted Late Show host Stephen Colbert got lots of ink and kudos for his hilarious and very feminist piece inGlamour on how women should rule the world, which promised that the voices of women would be a critical part of his late night TV reign.
This week, Colbert commenced his hosting duties on CBS. Did he deliver on his promise? Not even close. Women made up 20% of the guests during the first week of Colbert. 25% of the featured musical guests were women: a slew of unbilled musical cameos during the first episode added only two more women musicians (Susan Tedeschi and Brittany Howard), and there were several additional men (Buddy Guy, Aloe Blacc, Ben Folds, and members of the band Beirut). Non-musical cameos were also nearly all male: Jon Stewart, a host of football legends, and Jimmy Fallon were offset by one clip featuring Laura Linney.
We were warned that this might happen: Last week, Ruth Spencer at The Guardian said that preview shows were"extremely male":
…I watched nearly 40 people troop on and off stage. Of all the producers, directors, stage managers, writers and cameramen who appeared around the set tonight, I counted only two women: a makeup artist and hair stylist.
And it's even worse behind the scenes: Splitsider reported on Friday that Colbert's writing room includes just two women out of nineteen writers.
Actions speak louder than words. Like a lot of viewers, I'm a longtime Stephen Colbert fan who is rooting for him to succeed. I was hopeful that the Glamour article was a promise of what was to come: a rare late night program that values the voices of women. And, yes, it's only the first week, but like he said in the first episode, it's a first week that months of preparation went into. It's a staff that network-level money, time, and resources went into creating. And after all that money, time, and resources, including women was a fun hook to use in a magazine but somehow not worth investing in where it really counts: onstage and behind the scenes.
Late night television has a history of being all-male. Men have filled the swivel chair of nearly every major network late show for decades. (This  point was really driven home when Colbert listed the names of all of his late night competitors at the beginning of Friday's episode: they were all male.) Every host has an opportunity to create more gender equality on late night television through those they put onstage and those they hire offstage. In his Glamour piece, Colbert acknowledged that, "While there are many talented female comedians out there, right now the world of late-night is a bit of a sausagefest" and "Even when women do succeed, their stories often aren't told." He asked, "Why does this gender inequality still persist, and how can we stop it?"
Diverse perspectives lead to richer programming. Stephen Colbert, you have the power to create the change you say you want to see, but if you really want to empower the voices of women and stop gender inequality, you're going to have to book them for interviews and hire them as writers. As you said in your interview with Amy Schumer on Friday, "…women are more than half the planet." Don't let our voices continue to be an afterthought. 
Week 1 of the new Late Show is done. Who's up for watching Week 2, or even just an episode? Are you?
Help us keep track of The Late Show with the GA Tally.
Download the GA Tally on the GenderAvenger homepage and share your tallies with us using the #genderavenger and #LSSC hashtags.