Avoid Toxic Jewelry this Holiday Season (especially for children)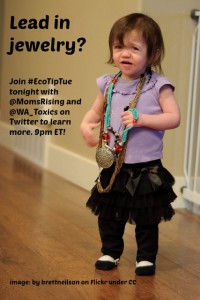 What's in your child's jewelry box? If you anything like many parents, its full of various play jewelry, presents from friends and family, and your own cast offs.
Is anything in your child's collection from Walmart, or Claire's?
Our friends at Washington Toxics released an alarming report about jewelry specifically from Walmart. Turns out, much of it is loaded with toxic heavy metals—like lead and cadmium. In some cases, the amount was more than 1,000 times the recommended level for lead. Now, should there even be a "recommended level for lead" ? Not when doctors and researchers regularly tell us there is NO safe level of lead exposure. Even at low levels, lead can be extremely harmful to a child's health.
Lead has been linked to learning difficulties (ADHD), violent crime, juvenile delinquency, and all sorts of health problem for kids, such as stomach aches, headaches, and behavior problems. Lead interferes with the normal development of a child, causing decreased IQ. This is why it was removed from gas, and we saw a marked improvement in brain development and IQs among the general population. Lead is toxic and harmful to the workers handling the jewelry as well.
And now, it persists in jewelry. Do you have a child that sucks her fingers, thumb, or fidgets? I do. These kids are particularly at risk for lead exposure via jewelry because they are constantly manipulating items and transferring lead to their mouths, or putting it directly in.
During our recent #EcoTipTue tweet chat, we heard many tips from Washington Toxics and Non-Toxic Kids about how to avoid toxins in jewelry and how to take action to make it safer for everyone. Here are the 8 top tips from the chat:
 Speak up to retailers. Ask if their jewelry is lead free, and demand safer products.
Buy jewelry only from reputable companies that you trust. One tip is nothing under 10 dollars—but even then we can't be sure.
Find (or make!) jewelry made from silver, gold, beads, or cloth.
Avoid jewelry that says: "Not for children". They may be hiding something—like lead or other heavy metals.
Spread the word: tell neighbors, grandparents, anyone who will listen that trinkets from coin machines, Walmart, or Claire's may harm a child.
Call on Walmart to protect child health and only sell safe, lead free jewelry.  Until they do—don't buy it.
Encourage kids to wash hands frequently and keep jewelry out of mouths
Purge your child's costume jewelry every so often, keeping safer choices.
Teach tweens and teens about this issue—and how it can affect them. Engaging with youth has a way of empowering them instead of simply telling them they can't have it. Join with them and encourage better choices.
Consider a safer, high quality piece of jewelry as a gift for family and friends.
The folks at Washington Toxics are calling on Walmart to act to protect public health, especially children:
1) Immediately remove these lead-containing jewelry products from its stores.
2) Publicly disclose the 10 chemicals being reduced or phased out in personal care products and cleaning products.
3) Commit to a timeline for phasing out Mind the Store's list of Hazardous Hundred chemicals, which includes lead, from all of its products.
In addition, we call on Consumer Product Safety Commission to investigate these products for compliance in accordance with the Consumer Product Safety Improvement Act and take appropriate enforcement action.
What are your questions or concerns about toxins in jewelry?