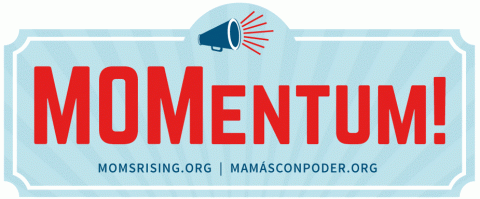 August MOMentum flowing strong for breastfeeding moms
Happy August! Even in the midst of changing schedules and changing seasons, we're keeping our eyes on the prize and moving forward on top priorities for women, moms, and families. MomsRising has led national actions and conversations during National Breastfeeding Month; celebrated yet another bank quitting the financing of private prisons harming immigrant and refugee families; and raised our voices for Black Women's Equal Pay.
Read on for the details, and thank you for supporting this movement!
P.S. As always, we love to hear your feedback. What do you love about being a MomsRising supporter? What do you think we should tackle next? Send your thoughts to me, anita@momsrising.org. Thank you!
---
BREASTFEEDING MONTH
With your financial support, we celebrated National Breastfeeding Month the MomsRising way: with education, advocacy and joy!
Each Wednesday of the month on Twitter, we led tweetchats covering workplace supports, policies like paid family and medical leave, personal stories and more, reaching hundreds of thousands of readers. We wrapped up the month celebrating Black Breastfeeding Week, leading a chat featuring @BlkBfingWeek, Black Mothers' Breastfeeding Association, and breastfeeding advocate Kimberly Seals Allers.
We also collected breastfeeding stories and sent thousands of petition signatures to Congress in support of breastfeeding parents facing immigration detention.
Don't miss Tina's post with the overview of the actions on our blog: https://www.momsrising.org/blog/celebrating-national-breastfeeding-month
---
#FamiliesBelongTogether
Good news, and you helped make it happen — PNC Bank announced it is pulling out of the private prison industry! That's the 7th major bank to drop support for companies that contract with Immigration and Customs Enforcement (ICE) to run immigration jails and detention centers.
Your support of MomsRising helps us lead the Families Belong Together coalition that's securing these ongoing victories!
---
| | |
| --- | --- |
| | MEDIA SPOTLIGHT |
The Wage Gap Costs Black Women Nearly $1 Million in Their Lifetimes
Huffington Post, Aug. 22, 2019
"It's shameful that in this day and age that Black women have to work 20 months to be paid what white men are paid in 12 months. It's racist, it's sexist and it harms me as a mom, my family and the economy at large. There's absolutely no justification."
—  Tina Sherman, Paid Leave Campaign Director at MomsRising, commenting on Black Women's Equal Pay Day
---
Muslim Americans Are Already Wary of Traveling -- And Trump's Taunts Don't Help
MTV News, August 23, 2019
"The mere optics of this most recent instance of the federal government asserting power over minority women on an international scale reignites and underscores a deep pain that's been building within the Muslim community for years."
—  Tasmiha Khan, Associate Campaign Director for Healthcare and Maternal Justice, writing for MTV News on living in the U.S. as a Muslim American today
---
| | |
| --- | --- |
| | MEMBER LOVE |
Members share how MomsRising is a positive force in their lives
"Your organization seems very on top of what's going on legislatively and I have come to trust that. You make it easy for me to lend my voice/signature. Thank you!"
— Ashley
Tell us, what does MomsRising mean to you? Send your comments to anita@momsrising.org.