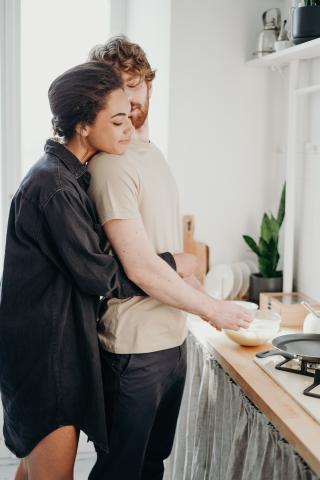 Are Women Actually Getting Pregnant During the Lockdown Period?
Most of the women and families navigating pregnancy and the pandemic were pregnant before shelter ins and restrictions began. And while there were memes sprinkled all across social media about a baby boom ringing in 2021, there was significant truth lying beneath that joke.
Back in April, experts advised couples to re-evaluate their conception plans and how pandemic prenatal care and access could be compromised as well as how an infection might cause miscarriages or potential birth defects. Most of those medical questions remain unanswered as the virus is still revealing itself to scientists, however, there are some socio-emotional and economic considerations that can easily be explored without input from the CDC.
The urge to procreate
Having children is a personal choice - be it planned or unintended. While this lockdown comes with a lot of adjustments and juggling, especially if you already have children, couples don't have much to do in their homes, so its a perfect, pardon the pun, breeding ground for trying to conceive. There is a lot of intimacy between couples during this period due to boredom and intense emotions, and they are likely to get adventurous with their intimacy. This is likely to lead to lots of pregnancies.
As we know not all conception stories are the same. Heterosexual couples are not immune to fertility struggles, LGBTQ couples looking to use donors or surrogates may be hard-pressed to arrange those connections and medical procedures now. women who have been freezing their eggs may have to wait until post-COVID to begin implanting. These hardcore realities don't remove the urge, however, which can lead to added stress, frustrations, and hasty actions.
For some, conception plans may have rolled in with lockdowns. Generally, all it takes for people to have babies is the right environment, and their feelings will override all the logical reasons that might be holding them back from making a child. If couples are provided with the right diet, environment, ideal timing, and good feelings that come with staying together and spending all-time at home, they are bound to procreate even without having priorly planned on that. With that said, if you have hit pause on pregnancy or the thought of having children is nonexistent, it's best to be careful. Very careful.
Financial and mental wellness and Covid-19 conception
Kids are darn expensive with or without an economic crash. If your finances are not in good shape and you can't afford proper child support, it is not advisable to have kids. Many might argue that financial security is key before procreating and that's a legit argument. If couples don't have enough money, they are bound to hold off on to baby-making until they are financially sorted.
However, many parents had kids when they didn't have anything and that became their motivation to work harder and provide for the babies. Also, having kids doesn't mean your finances will stop improving, especially if you have taken the additional expenditures into perspective and have made provisions.