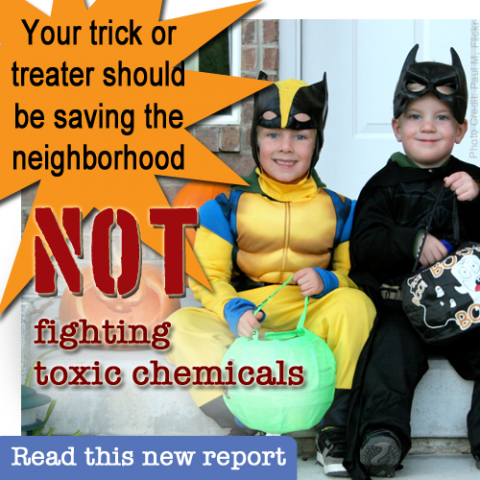 Are there toxic chemicals in your child's "trick or treat" bag or Halloween costume?
Parents across the country are stocking up on this year's hottest costumes for their little ghouls, goblins, and princesses, but some costumes may contain hidden toxic chemicals harmful to our children's health.  I wish I were tricking you.
A new study released today by HealthyStuff.org found elevated levels of toxic chemicals in popular Halloween costumes, accessories and even "trick or treat" bags.  Dangerous chemicals like phthalates, flame retardants, vinyl (PVC) plastic, organotins, and even lead – all of which are on our Hazardous 100+ list.  The products were purchased from top national retailers including CVS, Kroger, Party City, Target, Walmart, and Walgreens.
Toxic chemicals in "trick or treat bags"
HealthyStuff.org tested 105 types of Halloween gear for chemicals linked to asthma, birth defects, learning disabilities, reproductive problems, liver toxicity and cancer.  
Here are just some of their key findings:
Thirty-three of the 106 tested Halloween products contained polyvinyl chloride (vinyl or PVC) components.

Seventeen of the vinyl products were tested for phthalate plasticizers. Of these, two items contained phthalates that were recently banned by the Consumer Product Safety Commission in children's products. One of these was a Toddler Batman Muscle Costume purchased at Walmart. In the costume's yellow belt, HealthyStuff.org measured 29% regulated phthalates (290,000 ppm) and 340 ppm tin. Lead was detected in the mask inner lining at 120 ppm.

Ten percent of the products contained levels of bromine consistent with brominated flame retardants.

Two Disney-themed Trick-or-Treat bags purchased at Kroger, for example, contained 28,000 ppm and 6,000 ppm bromine, respectively. Halloween light sets purchased at Walgreen's and CVS contained similarly high amounts of bromine.

Thirty-nine percent of the vinyl products, ranging from dress-up shoes to a skeleton "light stick," contained tin at levels suggesting organotin stabilizers. Vinyl products were twice as likely to contain tin as non-vinyl materials. Some forms of organotins are endocrine disruptors; other forms can impact the developing brain and damage the immune system.
These chemicals have no place in products for our little ones.   Unfortunately because our nation's chemical safety law, TSCA, is completely outdated and broken, toxic chemicals like these are showing up in products such as these almost completely unregulated.  We have been working to reform this broken law, and our Director Andy Igrejas recently blogged on the latest efforts to work for meaningful reform of TSCA.   Earlier this year, Senator Gillibrand (D-NY) also introduced legislation that would expand the nation's ban on phthalates to include other children's products such as these.
"As a mom, I was disturbed to learn that some products children will be using for Halloween tested positive for toxic chemicals," said Senator Kirsten Gillibrand (D-NY). "Testing of these products is a step in the right direction, but much more needs to be done to better inform consumers so that we are keeping our families safe. I will continue to advocate for legislation in Congress to ensure that my sons and millions of other children are not exposed to toxic chemicals."
Retailers should Mind the Store
In the absence of comprehensive TSCA reform, we need big retailers to do better and leverage their purchasing power to safeguard our health.  In fact the new testing shows that many Halloween products do not contain dangerous substances, proving that safer products can be made.  
Take action now and tell the nation's biggest retailers that these chemicals are too spooky for anyone, especially our kids.  It's time they "Mind the Store" and get these toxic chemicals out of products once and for all.
In the meantime, here are some tips for a toxic-free Halloween:
Contact your favorite retailer and ask them to sell non-toxic supplies.

Avoid vinyl (PVC plastic) products: select cloth and natural materials for costumes and decorations.

Make up and masks: Use paint and pencils made from clay or other natural ingredients, or make your own.

Trick or Treating: use old pillowcases or reusable shopping bags

Pumpkins: Roast and eat the seeds and compost the pumpkin when you're done.

Decorations: Avoid plastics and instead use paper, cardboard, leaves or other natural and recyclable materials for your decorations.