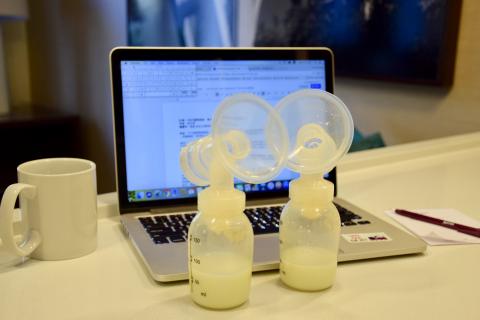 Applause to New Jersey for Signing Bill to Prohibit Breastfeeding Discrimination
Great news from New Jersey this week: Firing or discriminating against women who breastfeed at work is now prohibited under the
state legislation
signed by Gov. Chris Christie on Monday!
No, I don't live in New Jersey. But I think it is a good example of supporting a welcoming environment to working mothers. Now New Jersey employers would be in violation of the new law, which serves as an update to the state's civil rights law, for firing or discriminating against a woman over breastfeeding. New Jersey businesses must now also provide break time and a suitable location for breastfeeding women to express milk in private.
New Jersey is joining 48 other states, along with Washington D.C., and the U.S. Virgin Islands, to have laws allowing women to breastfeed in public and private locations. In 2016, the U.S. Department of Labor announced rules that require employers to provide accommodations for breastfeeding. This is important, because mothers with access to the break time and facilities they need are more than twice as likely to breastfeed exclusively for at least six months, which is the minimum breastfeeding period recommended by American Academy of Pediatrics.  
It is great to see that woking moms have new protections. When I gave birth to my first child back in 2003, many workplaces lacked breastfeeding accommodations. According to a 2015 study from University of Minnesota, three in five working mothers had no access to lactation accommodations. Only 59% of breastfeeding women have access to the break time they need, while only 45% have access to adequate facilities to express breastmilk. 
I live in California. The state has some of the most expansive
legal protections for breastfeeding mothers
of any state. Section 1030 through 1033 of the California Labor Code require all employers in the state to provide reasonable break time for expressing breast milk. This break time runs concurrently with breaks required for all employees. 
In spite of the advantages, some employers break the law when it comes to breastfeeding rights. My previous employer was one of them. The company denied lactation accommodations when I returned to work after maternity leave, even though breastfeeding accommodation is required by California law. This incidence eventually lead to my separation from that company and a law suit. I sued my previous employer for sexual discrimination.
The suit was settled
with an agreement which required the company to change its policies regarding lactation accommodations and to share these policies with staff. Moreover, all supervisors should be trained on the policy and how to respond to requests for lactation accommodations.
The only thing I disagreed with the settlement was confidentiality. They wanted to pay for my silence which I refused. I turned down the financial compensation in my lawsuit, so that I could speak out about this type of discrimination. I've been involved in breastfeeding and other women's rights activities ever since. I'm always thrilled to hear good news like the newly signed New Jersey bill. Let's keep speaking up and hoping for a brighter future!