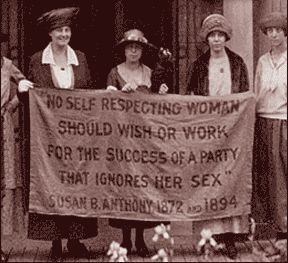 Another International Women's Day - It's Time
Another year, another International Women's Day. But this year feels different. Suddenly gender equality in the United States is a front burner issue. In fact, women's economic empowerment is recognized as central to how we address both income inequality and economic sustainability.  Gender issues stand at that sweet spot: offering both political and financial solutions. Policy makers, companies, and the media are taking notice.
Today, 40 percent of American households look to a woman's income for financial security. Studies show women in the workforce are a key to profitability. Social and mainstream media do the gender calculus on virtually every story. 
Policy makers are addressing it. In Massachusetts, the Governor's office and Bentley University convened a "Corporate Challenge" asking companies to measurably improve workplace gender equality and has teamed up with strategic partners to help companies make tangible change. In Minnesota, a new law ensures state contractors are complying with equal pay laws. President Obama passed an executive order bolstering enforcement of equal pay among federal contractors.  In Congress Senator Kirsten Gillibrand's core Family Opportunity Agenda is designed around equal pay legislation and paid family leave. 
Companies are also on board. While the numbers at the top show much work still must be done, gender equality is increasingly recognized as a key measure of sustainability. The Dow Jones Sustainability Index survey uses key metrics from the EDGE methodology to assess whether a company will be included in the prestigious Index.  While some companies tout gender friendly policies, others use marketing clearly designed to differentiate themselves as modern in their approach to women. 
Part of what drives the momentum on gender in the US today is media scrutiny. When Sony was hacked, the very first story was about how only one woman was among the top earners at the company (she has since been fired for the hacking incident.)  At the Oscars, Patricia Arquette's impassioned plea for equal pay stole the headlines.  The latest case of gender discrimination in the news has turned the spotlight on the dearth of women among the ranks of top earners in Silicon Valley. 
And what is getting little notice, may be the most important: Wall Street has started looking at gender equality as an economic imperative. Gender lens funds, populated by companies that are wise to incorporate a healthy number of women in their leadership, are popping up at the same time women-directed investment dollars are on the rise. 
It is a perfect storm in the US. The only question is can women in the workforce continue to weather the current state of inequity until real solutions, making measurable differences, are employed. Pay gaps and glass ceilings persist. Women still take an inordinant burden balancing family and work. The US is the only industrualized nation without paid maternity leave. Women are voting with their feet. Recent studies show that the stampede of women into the labor force that brought gains in GDP and productivity over the last several decades has started to slow down. 
Just as policy makers and business recognize the economic imperative of embracing women in the workplace, American women are saying "enough!" On this International Women's Day the pressure is on to dispel gender inequity and put in place supports for women and families.  Those who have delivered so much for so long with so little in return must see an economic imperative themselves for continuing to deliver the benefits that give our economy resilience.