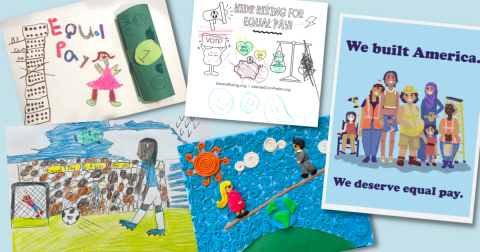 Announcing: Our 2022 Equal Pay Day Art Contest Champions!
When we made the call for Equal Pay Day Art Contest entries, kids and teens from across the country answered with a whole lot of creativity, colorful ingenuity, and powerful artwork to build grassroots youth power for pay equity and workplace justice.
We are honored to announce that U.S. Secretary of Labor Marty Walsh and U.S. Deputy Secretary of Labor Julie Su served as our special guest judges from the Biden Administration. We're so grateful for their time and overall committment to equal pay.
The Secretary and Deputy Secretary selected one winning entry from each age group. Without further ado, our 2022 Pay Equity Champions are...
Ages 0-3:
Audrey in Wisconsin –
Ages 4-7:
Verity in Pennsylvania –
Ages 8-11:
Cassidy in Pennsylvania –
Ages 12-15:
Maxwell in California –
Ages 16-18:
Sofia in Florida –
========
We were pleasantly overwhelmed by the number of amazing entires we received. You can check out some of them below. Thank you to each artist and family that particpated! 
Maddy in Colorado (16-18):
Maisy in New York (16-18):
Samantha in Maryland (12-15):
Liv in South Dakota (12-15):
Robin in South Dakota (12-15):
Clementine in South Dakota (12-15):
Arun in Illinois (8-11):
Charlotte in Missouri (8-11):
Ezekiel in Virginia (8-11):
Leah in North Carolina (8-11):
Talia in New Jersey (8-11):
Helena in Florida (4-7):
Hannah in California (4-7):
Emiliano in New Jersey (0-3):
Quincy in Maryland (0-3):