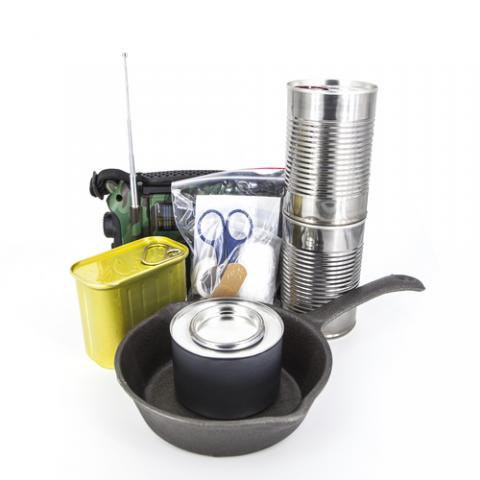 A Storm Is Coming Your Way? 5 Tips to Help You Prepare Without Spending a Fortune
It is impressive to see how supermarkets are always empty on the eve of a storm. I wonder: If we get overly alarmed and exaggerate too much in the moment instead of being prepared for the long term?
Before the recent snowstorm in the Northeast, when I went to do my weekly shopping, I noticed the long lines and the shortage of products. I was surprised by the amount of perishable products like milk, eggs, meat, fruits and vegetables that people around me were buying. The scene looked like each customer was having a big party at home when in fact, probably only four people live at the house. I'm sure that loads of food spoiled and many people weren't able to get the essentials before the storm arrived.
Surely you might be thinking: All this harping on being prepared for possible emergencies and now I'm being told to not be prepared? Not really. What matters isn't being prepared at the last minute before bad weather, but to prepare yourself and your family in a way that's smart and steady, adapted to the particular needs of your family, and saving money in the process.
To help you get started, we have five tips for when bad weather threatens your area, so you don't have to fight for that last gallon of milk at the store.
1. Start with a list of recommended items and make an inventory.
Note that if you need help during a disaster, first responders and rescue teams may take three or more days to reach your location. Keeping that in mind, as a starting point, review this general list, make an inventory of items you already have, and create an additional list of missing items.
2. Adapt your emergency kit to fit your specific needs and the season.
Before heading out to the store, analyze your list and include elements unique to you and your family, such as extra prescription medicine and specific items for the season of the year—like blankets for the wintertime. In my case, I have a sweet tooth and I cannot function without coffee. Therefore, my emergency kit has a few bars of chocolate, instant coffee, and canned food to eat in case of a disaster.
3. On each visit to the store buy one or two items for your emergency kit.
It is better to spend $30-50 more on a few visits to the supermarket, instead of spending $200- 500 on the eve of a storm and have half the items you buy go to waste.
4. Check expiration dates and renew your products regularly.
Every month or two, check the expiration dates of food, medicines, batteries and other items to make sure they're still good if and when you need them.
5. Keep mini-kits in places such as in the car, at the office or at school.
You never know where you might be when an emergency happens. It is smart to have a mini- emergency kit handy in places where you spend a lot of your time.
I hope you find these tips useful. Take some time to think about your purchases in anticipation of a snowstorm or other events like hurricanes or severe storms and take into account the money and time you can save in the future.
Remember, an emergency kit is just one part of a preparedness plan. Having a family communications plan and other things could help you be better prepared for any kind of emergency.
Visit Ready.gov for other preparedness tips and feel free to talk to us and follow us on Facebook and Twitter.