From the moment I received that email I got excited. An email where it said "MomsRising was looking for a mom who has a unique story to share on Capitol Hill in Washington, D.C." At work everyone was extremely excited for me, we were anxious to see if I would be selected for this outstanding opportunity.
The process was actually very joyful for me because each individual I spoke to was very interested in my story, my life, and most important my kids' life. At one point I felt like I was educating people since they were not familiar with Sensory Processing Integration Disorder, which is the disorder my daughter has. The questions they asked were great for me to express my thoughts.
I received a phone call the next day saying I was selected. Wow!!! I just couldn't believe this was actually happening to me, an ordinary person. Of course my boss and coworkers were the first ones to know since it was at work where it all started.  I will never forget all the emotions inside of me. The great feeling I felt and the thoughts of my kids smiling for me. As a single mother of two kids, everything I ever do is for my kids. All I want of this world is a better place for them especially for my oldest daughter since she has special needs. I just knew deep inside of me that this will be a great opportunity.
It has not easy being a single mother and I am sure many single mothers feel the same but is not impossible to overcome our struggles. I have benefited from many government assistance programs not by choice but by need. My oldest daughter's special needs require lots of visits with therapists, which I can't afford.  She also needs a special education setting. I have experienced first hand what it is like to have the government cut off funds— funds which I depend on for my kids. It is the most stressful and desperate feeling.
I have also experiences great programs like Early Head Start, which has made my life much easier. Early Head Start was introduced to me in one of the hardest times of my life I must say. I have a great relationship with Early Head Start and now I have a job with this program therefore I know how important this program its for people like myself and the difference it makes for children and their education.
I just knew my story could possibly make a difference in D.C.
I was invited to speak at a briefing about federal budget programs that help children. I knew I had to put behind all my emotions and fears in order to tell all these strangers about my life and about my daughter's special needs hoping this will make a difference. It has been extremely hard to share with others about my daughter because I don't always get a positive response. From the moment I got on the plane, hotel and before the briefing itself I practiced and read over my speech constantly.
When it was finally December 18, 2013 I was super excited, nervous, and emotional. At one point all that went away when I had breakfast with Elyssa from MomsRising. We met up in the hotel lobby and from there we went to have an amazing breakfast where we talked about everything. It made me feel very comfortable and welcoming. From there I was on my way to the experience of my life!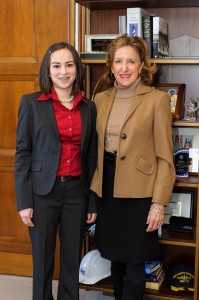 Our first stop was North Carolina Senator Kay Hagan's office. Senator Hagan's staff was super nice from the beginning to the end. I had the opportunity to mark my city (Durham, NC) on a big North Carolina map and we had coffee and donuts. We waited for Senator Hagan to arrived so I could meet with her and share my story. I couldn't help to be very nervous and worry that I will not be able to speak in front of her. Thinking about it now it was not all that bad. Senator Hagan listened to me and asked important questions about my daughter needs. I was thrilled to tell her about my experience. Yes, I can admit that at one point I couldn't believe she wanted to know. Meeting with her was quick but sweet and as a memory of the meeting I have a great picture of the two of us. After meeting with Senator Hagan, we met with a staffer from my congressman Representative Price's office. Telling my story again helped me start to warm up for the briefing.
While speaking in front of all those people at the briefing was scary I was determined to make a difference. I stood there in front of all those people and told my life story. For the most part I memorized my speech, after all it is my life, how could I forget strong events?! As I spoke I stuttered plenty times but it wasn't because of the people in front of me but because I was reliving those hard moments in my life. Knowing for the most part I have overcame them was emotional. But I stood strong and shared my story. I felt so proud of myself for this huge accomplishment.
After the briefing many people came up to me and introduced themselves. These are all very special moments I must say. I was even interviewed by a reporter!
After it was all over I sat down to eat lunch and as I ate I thought about the journey I just completed and all the amazing things within my journey. I gained so much from this experience and met great people. I have opened a new chapter in my life with this opportunity.
I thank deeply MomsRising for this great opportunity and for all the support and encouragement. To Elyssa for all her help, for being with me on this journey. To my family for all the support and for taking care of my kids. To my coworkers and boss for allowing me to step out. To everyone who believed I could do this. I honestly know this its just the beginning of great things to come. I will continue to be the voice for my kids in the hopes of creating a better country for them to live in.