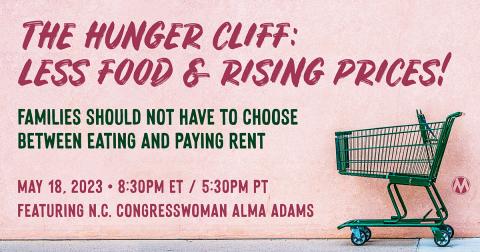 A moral outrage: Less food, rising prices, potential budget default!
Have you recently left the grocery store wondering how anyone can afford food? Me too. The truth is not many people can. The rising cost of food is making it difficult for moms, grandparents, and families to put food on the table. And worse still, many families who rely on the Supplemental Nutrition Assistance Program (SNAP, also called Food Stamps and EBT) saw their monthly benefits drop in February. Now, even more families are having to choose between eating and paying rent or other essentials– a choice no one should have to make. 
On top of all of this some extremist members of the House of Representatives are trying to pass harsh cuts and barriers to access to nutrition programs like SNAP and WIC in the face of a potential national budget default. It's a moral outrage! Why are some lawmakers trying to hold hungry families hostage while forcing the U.S. economy and government into default? We know these questions are complicated but we're here to help answer your questions! 
For too many families, the hunger cliff has been all too real. Join our second #KeepMarching meeting of 2023 as we talk about the hunger cliff and the role of SNAP and other federal food assistance programs to help moms feed their families. Will I see you on Thursday, May 18, 8:30pm ET / 5:30pm PT?
SPECIAL GUESTS! During this #KeepMarching call you'll hear from North Carolina Congresswoman Alma Adams, a huge anti-hunger champion who has just introduced legislation to get food to more families in need. We'll hear from Gina Plata-Nino, Deputy SNAP Director at the Food Research and Action Center (FRAC). We will also hear from MomsRising super volunteer Kyler Daniels, an NC mom who will share how SNAP has supported her family and how the hunger cliff has impacted her.
RSVP NOW. You don't want to miss this vital conversation next Thursday, May 18, 8:30pm ET / 5:30pm PT.
Here are details:
WHO: Anti-hunger champions Congresswoman Alma Adams, Gina Plata-Nino, MomsRising super volunteer Kyler Daniels, and moms, dads, and family members from around the country
WHAT: #KeepMarching call to talk about the hunger cliff, SNAP, how funding for food assistance is being threatened in the current debt ceiling/default debate, and opportunities to help parents put food on the table.
WHEN: Thursday, May 18th at 8:30pm ET / 5:30pm PT
***RSVP NOW to get the Zoom and call-in information for our May 18th #KeepMarching call! 
All are welcome to join our #KeepMarching calls, so after you RSVP forward this email to your friends and invite them to join you as well.
We can't wait to see you on Thursday, May 18! Together, we'll #KeepMarching and never stop fighting for the change our families and communities need. And we'll never stop supporting and being there for each other.