Take Action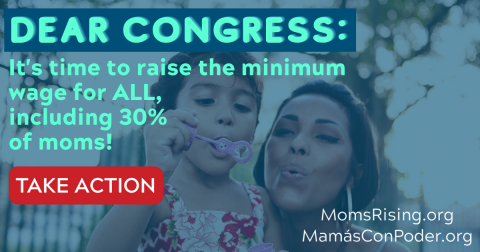 A living wage RAISE for 30% of working moms!
We have a wage shortage on our hands, across the nation.
Maybe you know this firsthand when you crunch numbers in your head to budget for food and rent, or maybe you've noticed that many businesses are having a difficult time finding, hiring and maintaining staff that can afford to make the minimum wage.
(Spoiler alert: families can't meet their basic needs on the current federal minimum wage! The math just doesn't add up. It stands at just $7.25/hr, and for tipped workers, the subminimum wage for tipped workers is an unconscionable $2.13/hr.)
The minimum wage hasn't gone up in twelve years, but the cost of living certainty has, and the value of the minimum wage has actually decreased 21% in value over those twelve years. To afford a modest one-bedroom at Fair Market Rent, someone earning the current federal minimum wage must work 79 hours each week. It's undeniable that the minimum wage has become a poverty wage instead of an anti-poverty wage.
>>> To boost families and our consumer-driven economy, click here to add your signature to our letter asking Congress to PASS the Raise the Wage Act!
Raising the minimum wage would give over 30% of all working moms (nearly 8 million of us - the majority breadwinners!) a much needed raise. It would also boost the economy and help businesses fill open positions.
It will be a game changer for families! And with more money in our pockets, we will have dollars to spend and pour back into our consumer-fueled economy while resourcing our kids with the things they need and deserve, like shoes that fit or after-school snacks.
Contrary to the regularly spread myth about raising the minimum wage, raising the federal minimum wage will increase the number of jobs available and help businesses.
Studies show that cities, states, and employers that have already raised their minimum wage to $15/hr or more have experienced either neutral or POSITIVE impacts with job growth and revenue, while families were finally able to afford the basics and stimulate the economy. A total win-win.
*** CLICK HERE *** to add your name to the official MomsRising letter calling on Congress to pass the Raise the Wage Act as soon as possible!
Raising the minimum wage for moms and all working people will help us build a widely shared recovery and more financially resilient families, communities, and local economies.
Together, we can end poverty wages! Don't forget to click here to sign our letter.
PS – Our stories matter! Do you currently make the minimum wage? Or did you in the past few years? It's impossible to afford even the basics on $7.25 or $2.13/hr. What is it like to juggle your family budget on the minimum wage? Tell us here. We'll share your story with lawmakers so they can understand why it's so critical that they raise the minimum wage!