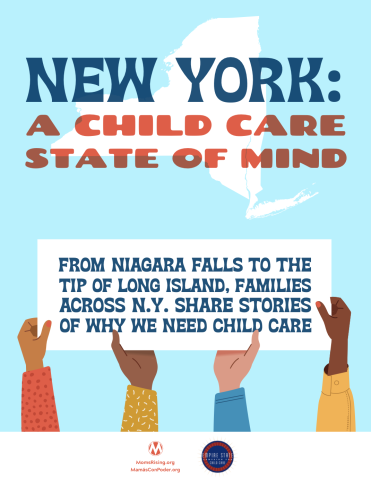 A Child Care State of Mind: Parents in New York Share Their Child Care Struggles
Moms, dads, caregivers, early educators, and child care advocates from around New York State have been sounding the alarm saying for years that our child care system is broken, a fact and lived-reality that only became much worse as a result of three years of a global pandemic. This storybook "New York: A Child Care State of Mind" highlight stories from all over the Empire State that show the difficulties parents are facing every day when it comes to child care.
Let's be clear: Child care is a necessity: without it, parents cannot work. Yet, the state of child care in New York state and around the nation is truly concerning. Too many families cannot find or afford child care. In March 2023, a survey conducted by the Empire State Campaign for Child Care found that even though child care has made modest recoveries from its pandemic losses, staffing shortages due to low wages are contributing to a growing number of child care providers operating at reduced capacity – even while many carry waitlists of families desperate for child care. More alarming, studies show the lowest income communities suffered the highest loss; predominantly communities of color lost had the most significant losses. Quite simply, the lack of child care is hindering New Yorkers' ability to work, provide for their families and thrive.
Child care is the largest monthly bill for many New York families with children costing an average of $2,829 per month for an infant and a 4-year-old in a child care center ($33,945 per year). The cost of child care for infant care in New York is higher than public college tuition; the current rate for in-state tuition at a SUNY college $13,490. This is also the case in many other states around the country. The costs don't end when kids start school: families who have two school-age children in afterschool care report spending over $20,000 in afterschool care per year.
It's also important to note that early educators are being paid poverty-level wages and too often struggle just to support their own families. It is critical to invest in the child care workforce and in the pay of New York's early childhood educators, 96% of whom are women and 56% who identify as people of color, who are paid such low wages they live in poverty at more than twice the rate of New York workers in general. Many cannot afford to remain in the field, as a result the child care sector has lost workers and the quality of care suffers. In New York, the level of employment in child-care services are still lower than pre-pandemic numbers, down by 5,400 in Oct. 2022 compared to Oct. 2019, an 8% decline from pre-pandemic levels.
Labor shortages caused by a lack of a strong care infrastructure are fueling inflation and threatening our economic recovery both at the state and federal levels. At a time when there nationally are nearly 10 million open jobs in the economy, the majority of the women with children age 5 and under, and half of women with children above age 5 who are not looking for work are not looking for jobs because of childcare or family responsibilities.
The stories you will read in this storybook highlight the extreme child care challenges parents face all over the state. These are powerful stories that indicate the impact the lack of child care has on the financial, emotional, physical and mental well being of parents and children. The historic and ongoing underinvestment in child care is hurting families across New York and the country. We ask that lawmakers commit to investing in a child care system that meets the needs of all children, families, communities, and early educators.
This storybook is a joint effort between MomsRising and the Empire State Campaign for Child Care, whose member organizations are advocating for quality, affordable child care for all New York families. Their goal is to provide equitable, affordable or free access to quality child care for all New York children and working families, and a family sustaining income for child care providers. ​
Read the report here. Share it far and wide! 
Together we are powerful! If you're a parent who wants to share their child care story, click here.