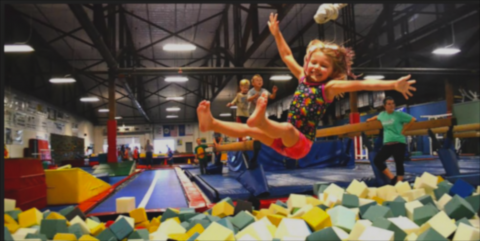 A Chemical Risk to Our Children's Olympic Moments
The summer Olympics are coming, and gymnastics are sure to be among the most popular events. But while parents of America's young aspiring gymnasts -- and even other parents -- are watching the action, most of them don't know that some gym mats and other foam equipment could pose a serious health risk.
A recent study from Harvard, Duke and Boston University researchers found high levels of flame retardant chemicals in the blood of eleven elite college gymnasts. The flame retardants found in the athletes' bodies have been linked to cancer and may alter the bodies' natural hormones, leading to possible risks of infertility or other serious health concerns.
These flame retardants are used in gym mats and in the foam cubes used to cushion falls in landing pits – in fact, 89% of foam samples collected from gyms across the country contained these chemicals. What's even more shocking – the Center for Environmental Health (CEH) has found the same kinds of flame retardant chemicals linked to cancer and other diseases in the nap mats used in child care centers that serve millions of American families nationwide.
Young children are particularly vulnerable to exposures from these toxic flame retardant chemicals. Flame retardants used in foam cubes, gym mats or nap mats can escape into the air and surrounding dust, exposing young children in child care center and gyms through the mouth, eyes, nose and skin.
The good news: CEH pressure has led many nap mat makers to eliminate flame retardants from their products. Our recent testing found just two out of 12 nap mats tested containing these harmful chemicals.
But that's still two too many – and many daycares are using older nap mats that may have been made before companies switched to safer products. Whether parents are concerned about their daycare or their child's gym class, everyone should know that flame retardant chemicals do not provide fire safety benefits in these products, yet they can expose our children to serious health risks.
CEH advises parents to ask questions and take action at your child's day care or gym class, including:
·       Are the children's nap mats made with flame retardant chemicals? Has the child care center asked its nap mat provider about flame retardants, and have they asked for nap mats free of these chemicals?
·       Does the gym know if gym mats or foam cubes contain flame retardants? Has the gym looked into getting flame retardant-free products (the Gymnast Collaborative has purchasing resources).
·       If the daycare or gym is not sure about the flame retardant content of its products, parents should ask them to take steps to minimize potential exposures. Foam-filled equipment should be cleaned regularly to minimize dust build-up, which is a key route of exposure. Also, children and staff should wash their hands regularly, especially right after being in contact with foam-containing products and especially before eating.
These steps can go a long way to keeping our children safe and healthy, and ready for their Olympic moments!