6 Ways to Avoid Toxic Flame Retardant Chemicals (and why we should!)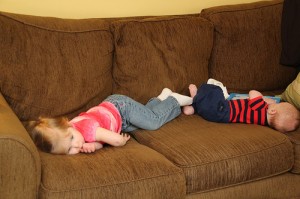 Where were you on Tuesday night, and what are you sitting on right now?
If you were able to come to #EcoTipTue this past week, you might have heard more about flame retardant chemical in our homes-- especially in our couches.
Flame retardant chemicals have been getting a LOT of bad press lately. What's the problem, you ask? It's only a cushy place to rest after you have fed the kids, read to them, put them down for the night, and done all the dishes, emails, and phone calls? Yeah, that place. It has a dark side.
Veena, a staff scientist from The Green Science Policy Institute, joined us for the chat and shared that flame retardant chemicals in couches are full of toxic chemicals linked to cancer, hyperactivity, anxiety, obesity and reproductive problems. That is quite an awful list! She also shared that fetuses, babies and young children with growing bodies and brains are much more vulnerable to exposures.  In fact, according to Veena, children have three times the levels of flame retardant than mom!
Flame retardant chemicals resident in the foam of furniture. How does it get out of the foam, and into our bodies? It migrates out of the furniture, and into the dust in our homes, where it then travels to little hands and mouths and bodies.
The Green Policy Institute isn't the only one sounding the alarm about the dangers of toxic flame retardants in our furniture,  the Chicago Tribune did an exposé on the flame retardant chemical industry and their deceptive practices.  This is a shocking read.
So, what is a busy and concerned parent to do?
1.  Seems like common sense, but it is actually really important to fight disease AND toxic chemicals: Wash hands often and always before eating!  Even when they (or you) are really hungry!
2. Reduce indoor dust (which carries flame retardant chemicals) by vacuuming with a HEPA filter.
3. Wet mop and dust (Ugh! More cleaning!).
4. Open windows when it is nice outside.
5.  Buy flame retardant free furniture. Here is a guide.  Polyester, down, futon, wicker and wood furniture and decor does NOT usually contain flame retardants and can be good safer choices.
6.  On anything with polyurethane foam (strollers, carriers, nursing pillows)- look for a label attached to the product and AVOID TB117 label on baby products- if it does NOT meet TB117 that is a good thing and means it does not have flame retardant chemicals!
How can our couches be toxic? We need chemical reform to better protect our children from unnecessary and harmful chemical exposures. Our laws are outdated and give industry a green light to add chemicals to products that are not tested for safety before being used. And in this case, the links to harm are very clear.
How can you find out if your furniture contains flame retardants? Use this guide. 
Thanks to The Green Science Policy Institute and Veena for sharing this important information. Sign up for their newsletter to stay informed on this topic and you can also follow them on Facebook. 
image: by erin.kkr on Flickr under CC