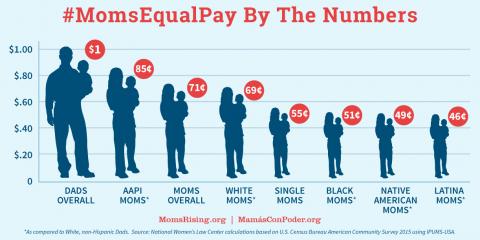 #5Actions To Fight For Our Democracy! Week of June 5, 2017
Happy Monday! We're back with five new and important actions for this week, from protecting the Women's Bureau, to demanding equal pay, to organizing a fun meet up in your community.
You are powerful! Take all 5 actions at once, or do one a day. Your choice. What matters most is that you continue to speak out! And be sure to share this list with friends and family too. 
Thank you!  
1. Tell USDA Secretary Perdue: Moms say NO to cutting healthy school meals!
BACKGROUND: Healthy food for kids isn't a game. It isn't a partisan or a political issue. It's the right thing to do. The healthy school meal standards have been successful, any way you slice it. Yet USDA Secretary Perdue has proposed rolling back or delaying important standards around sodium and whole grains. It just doesn't add up. Speak out to defend healthy kids and schools! 
2. Hold a Statue of Liberty Signing Meet Up!
BACKGROUND: It's like a postcard party, but better! Over Mother's Day weekend, MomsRising delivered thousands of Statue of Liberty figures for President Trump, U.S. Attorney General Jeff Sessions and every member of the U.S. Senate to honor Mother Liberty and to remind them that diversity is at the core of our strength, and that liberty and justice are for everyone. Now we need your help to make our anti-discrimination message reverberate outside of Washington, D.C., in a powerful demonstration of MomsRising's reach and a defense of our democratic values. At your meetup, participants will write personal messages on Statue of Liberty wood cutouts. Then all you have to do is drop off the cutouts at your elected representative's district office!
3. Save the Women's Bureau from Trump's Budget Cuts
BACKGROUND: The Trump Administration's proposal to cut the Women's Bureau's budget by 70%, eliminating all regional offices, would essentially render the agency unable to fulfill its mission of empowering women to achieve economic security. For nearly 100 years, the Women's Bureau has served as the only agency in the federal government charged with advocating for the interest of working women and for the economic security of women and their families. It has worked on high-priority issues such as paid leave and earned sick time, as well as highlighting the needs of women veterans. It has been at the forefront of addressing equal pay, ensuring breastfeeding and pregnancy accommodation, as well as working with women in the trades. Issues that the Bureau once raised as "women's issues" have become the standard for all workers today. Sign on now to save the Women's Bureau from the Trump Administration's budget cuts!
BACKGROUND: May 23rd was Moms' Equal Pay Day – the day in 2017 when mothers catch up to what fathers earned in 2016 alone. The wage gap between mothers and fathers is even larger than the gender wage gap, with moms on average making just 71 cents for every dollar paid to dads. Moms of color fare even worse, with Black moms making just 51 cents and Latina moms making just 46 cents compared to white, non-Hispanic fathers. The moms' wage gap isn't just plain unfair or bad for our families – it's bad for our national economy too. Take a moment to send a message to Congress, urging them to help close the wage gap!
5. Six Things You Should Do Now, from MomsRising Senior Fellow Patrisse Cullors!
BACKGROUND: Keep the momentum going! Check out Patrisse Cullors' latest piece on our blog with six practical actions you can take right now on urgent issues facing us all--health care, gender justice, climate justice, and more. And then share it widely! We want as many people as possible to read, discuss, and take action! 
Thank you for all you do to make our nation stronger and a place where everyone can thrive! #KeepMarching!