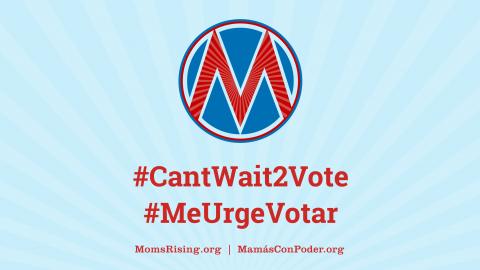 #5Actions: Get Out The Vote Edition!
With only 25 days left until election day, we need to double our efforts to help Get Out The Vote. We've organized #5Actions you can do today to help.
Please remember to share this with family and friends, too. Thank you for all you do! On with the list ...
1. ONE MORE CHANCE: Until this Sunday at midnight, you can sign up to get a package of 5 pre-stamped, pre-addressed postcards for you to write on and send to an infrequent voter!
BACKGROUND: MomsRising is making it super easy (and FREE) for you to help in a powerful Get-Out-The-Vote effort before Election Day. Sign up now to send just 5 postcards to registered voters who haven't always voted on Election Day in the past. We'll send you a packet of pre-addressed, pre-stamped postcards. All you need to do is write a quick note of encouragement and drop them in the mail. Can you help? Sign up here to get your postcard packet now. Here's what the postcards look like: =>
Too busy to send postcards right now? You can help us reach as many voters as possible by donating to this campaign!
2. Sign up to make phone calls to infrequent voters who live in key states
Background: What's happening in Washington, D.C. is awful, but one truth is shining through: Together we are the loud, visible, necessary force our nation needs right now. We need you. We need your help. We quite literally need your voice. We've got to keep pushing forward together, and an important way to do that is by signing up to call one another with a reminder to VOTE. After you click through, we'll be able to send you everything you need, including: An easy way to make lots of phone calls where you don't even have to dial each number, a short sample script of what to say, the timeline in which your phone calls need to happen (last two weeks in October and first week of November).
3. Are you registered to vote?
BACKGROUND: While voter registration deadlines have passed in some states, it's not too late to register in others. Check to see if you're registered — and share the link with friends too!

4. Contribute Today to Help MomsRising Get Out the Vote!
BACKGROUND: We need your support to help energize our #MomsVote work so we can bring forward the votes and voices of women and moms across the nation in the election season. With MomsVote, we can register women to vote, educate the candidates about what matters the most to women and moms, engage MomsRising members in the national political dialogue, and more.
5. Sign up for our mobile action list
BACKGROUND: As we head into the final month before the elections, we want to be able to engage with you on multiple platforms and provide information about early voting, polling place locations and how you can help get others to the polls. Text VOTE to 747464 to be added to our mobile list.
Thanks for all you are doing to help Get Out the Vote in 2018! We so very much appreciate you!
P.S. While we are focused on election efforts next month, many of us are still reeling from the confirmation of Brett Kavanaugh as a Justice on the U.S. Supreme Court. But women and people who are concerned about the rights of survivors of sexual assault are ever more united in our conviction that the confirmation fight cannot be in vain and we will continue to raise our voices until all women are safe and our rights are secure. Dr. Christine Blasey Ford gave the country an important teaching moment on the devastating impact of sexual violence with her dignified, forthright, and persuasive testimony about Supreme Court of the United States Nominee, Judge Brett Kavanaugh, and we owe her a debt of gratitude. Click here to say "Thank you" to Dr. Christine Blasey Ford for bravely sharing her story and for her powerful testimony in front of the U.S. Senate Judiciary Committee.