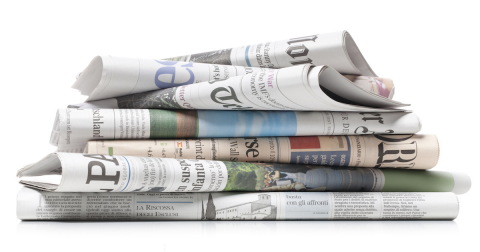 #5Actions Challenge: Take it up a notch
Happy End of Summer! It's been a busy one. This month marked our ONE HUNDREDTH EDITION of #5Actions! Thank you to everyone who's made this weekly round-up a part of their routine. Our goal has been simple: to make it as easy as possible for you to review and catch up on all of the big actions from the previous week. And it's working. Thank you for making time to add your voice, share your story, or make a call. We know you're busy but we also know you're powerful. Together, we're doing the work.
To celebrate, we want to flex those parent power muscles and challenge you to take your activism up one notch. Don't worry, we have your back! Here's what we mean:
-> If you're a regular petition signer: you rock, thank you! How about sharing our content with friends on social media?
-> Have you already shared your story around an issue? Yay! Now can you try writing a letter to your local paper?
NOW is a great time to practice some new skills. Because they make a big difference, and there's a LOT of work to do this coming year.
This week's list of top actions offers a full range of exciting opportunities to take your activism up a notch. Please scroll down and challenge yourself to do just one thing you haven't tried before. Ask us if you have questions or need help. Every additional step you take makes our powerful movement of over a million parents and caregivers that much stronger. There's an opportunity to donate to fuel our work too.
Thank you and here's the list! =>
1. Amplify Your Impact on Social Media! Follow and share our content on Instagram!
BACKGROUND: Guess who has a huge influence on your friends and family? YOU! They know and trust you, and something as simple as your sharing one of our action pages on social media can be enough for them to take action, too. So if you haven't yet, be sure you're following, liking and sharing our content on Instagram! You can find us at @MomsRising and @MamasConPoder.

2. Share Your Story (We ALL have one)! Have you needed paid leave to care for yourself or a loved one?
BACKGROUND: Our stories are one of our most powerful tools for influencing decision makers. And RIGHT NOW we need to quickly identify stories from people who've needed paid leave for medical reasons, to make sure lawmakers keep the focus on the need for *comprehensive* paid family and medical leave--not just maternity / paternity leave. Have you needed time off for a surgery or chronic illness, for yourself or a loved one? Please share! It takes just a minute, and really helps paint the picture of why issues like paid leave are such a big deal for parents and families. Please click here to get started.

3. Write a Letter to the Editor of Your Local Paper! We make it easy, and now is the time to speak out about reproductive health.
Write a Letter

BACKGROUND: Writing a letter to your local paper is a great way to join and lead the conversation around timely topics like reproductive care! Now more than ever, reproductive health care is under attack across the country. The Women's Health Protection Act (WHPA) would protect the right to abortion, and now is a great time to speak out for it. As our members of Congress are home for August recess, it's the perfect time to write a letter to the editor of your local newspaper! We make it easy with tips and sample language - click here to get started!

4. Be a Grassroots Leader: Join #KeepMarching
Sign Up!

BACKGROUND: #KeepMarching supports moms and family members who are taking the lead, doing more, and organizing in their communities, and creates on-the-ground connections for people to join together to make a difference. It gives form and function to what many are looking to do or may even be doing already on the fly: meeting with others to discuss current events, strategizing about what can be done to lift our communities and country, sharing frustrations, emailing each other petitions to sign, gathering for postcard parties, attending town hall meetings and rallies together, and more. Sign up to get access to special #KeepMarching support, opportunities and spaces that help you lead change making in your own community!
5. Petitions Are Still Powerful Too! Sign Your Name -> Babies Need To Be With Their Moms! SPEAK OUT!
Sign Now

BACKGROUND: Every working and breastfeeding mother should be able to experience that feeling of anticipation as they wrap up a hard day's work and return to their loved ones. No one should carry the uncertainty of not knowing when they'll see their children again. And yet, mothers like Maria Domingo-Garcia and others that have been separated by ICE from their children while they are still breastfeeding, have had that taken away. We know that separating and incarcerating children and families causes tragic, long-term consequences to the health and well-being of children and their families. In spite of that knowledge, the Trump administration continues to push policies that do just that. We demand that the Trump Administration and Congress protect immigrant children and families. Add your name now.
BONUS: Donate to Fuel Our Work!
Stand with immigrant families. Defend women's and family rights with a donation to MomsRising. Contribute today and we'll send you this special "Mothers Raising Liberty & Justice" sticker. These stickers are perfect for a car, water bottle, notebook, laptop — wherever you want to show your support for immigrant and family rights. Click here to donate and get your sticker now.
THANK YOU for all you do, and have a great weekend!
---