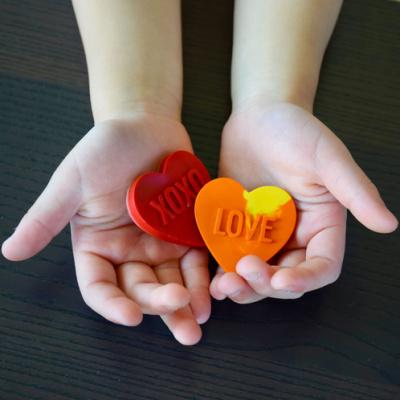 5 Ways to Have Our Voices Heard This Valentine's Day
This Valentine's Day, let's count the ways we can have our voice heard to finally solve child care! What families need this year is for Cupid to book a plane ticket to Washington, DC and use some of their magic to get our elected leaders to show us some love and invest in the solutions for the pressing issues that continue to impact our communities. 
Here are some ideas on how you can get involved in Cupid's V-Day Extravaganza:
1. Tell Elected Leaders: You're breaking our hearts! 
Color this sad Valentine, send it to your Senator and let them know their inaction on passing solutions our families need, like child care, paid family medical leave, lower drug prices, the Child Tax Credit, housing assistance, and more is breaking our hearts. You can print our image below and send it to your elected officials, or drop it off at their office.
You can also print out this Valentine and send it to your Senator to let them now their inaction is breaking your heart!
2. Let your caregivers know: They're BEAR-Y special! And they deserve all the things! 
Our teachers, caregivers, early childhood educators, babysitters… they could all use a little love thrown their way. You can print out this image and let them know how bear-y special they are. Print this coloring page here.
You can also print this Valentine's Day card and send it to your child care provider or teacher and let them know you support them getting living wages and paid time off too.
3. Tell your caregivers they paint our futures bright! One of our RISERS fellows, To-Wen, shares how she is showing her early care educators some love with this fun and easy activity: rainbow crayons. (it's a great activity to repurpose all those broken crayons around the house!) 
4. We're making a special delivery on Valentine's Day to ask Senators to show some families some love. 
As my colleague Nadia says, "it's difficult to feel the love when my family and so many other families like mine are struggling to afford and access quality child care." 
We are so close to the finish line and this Valentine's Day we are telling our Senators  that  families all over our country need to feel the love with access to affordable, high-quality child care for our children!
**SIGN NOW to help Cupid's arrow strike some care infrastructure LOVE into our members of the U.S. Senate! 
5. Hot Chocolate + Candy Hearts + Marching Bands + Chalk Art = Valentine's Day takeover of Washington, DC!
Our friends at the National Women's Law Center and MomsRising are showing our love for issues like child care, paid family medical leave, Child Tax Credits, and more in two events on Monday, February 14th. A hot cocoa "Care-A-Van" truck will be driving around DC passing out free hot cocoa to resignize the amazing child care providers caring for our kiddos while calling for more investment in child care. And over on Capitol Hill, MomsRising is bringing the music and sweets to help Cupid's arrow strike some care infrastructure LOVE into the hearts of elected leaders! If you're in the DC area, keep your eyes open for us and join us for some fun, high-impact actions. 
If you're joining us in DC, make sure to RSVP here. 
Not in DC? We encourage you to show some love for child care providers and caregivers this Valentine's Day and let us know in the comments below why care infrastructure, like child care, paid family medical leave, and elder care are the best way for families and caregivers to get love this year.