We Are MomsRising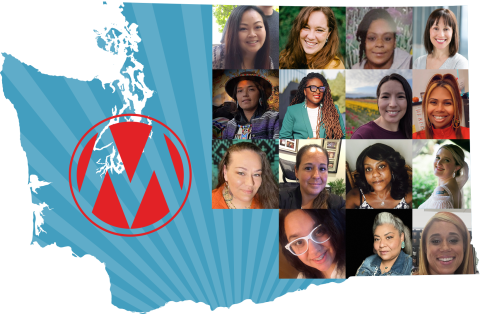 15 Washington State Fellows dedicated to bringing equity, and healing to their communities, and MomsRising.
Being a parent is a selfless act. For many, advocacy is reimagined here. The dreams of a brighter future for our children and communities is our motivation. Our Washington state Fellows of 2022-2023 encompass selflessness, determination, and vulnerability as they step more deeply into the shared work to make a better Washington and nation for all children and families. 
In Washington State, and across the country, the inequities of our systems and policies, and the COVID-19 pandemic have wreaked havoc on our families.  It is clear that from the disproportionate distribution of budgets to the need for family friendly policies and programs, the voices and leadership of families most impacted is critically needed to imagine and build a future big enough for all of us to thrive. 
It is the goal of the Washington State Fellows to shine a light on early learning and childcare, family economic security, maternal justice, health care, and immigration,. They also bring a wealth of knowledge, experience, and advocacy efforts that enrich the MomsRising community! 
It is with great pleasure that MomsRising and MamásConPoder announce the third cohort of the Washington MomsForce Fellowship. The 15 MomsForce Fellows for this year are:
Stephany Courtney of Spokane
Monique Alteimer of Seattle
Shauntel Callendret of Seattle
Michelle Dewalt of Shoreline
Carmetrus Parker of Parkland
Erika Lopez of Aberdeen
Clysta Cole of Seattle
Shizuko (Suki) Holloway of Lakewood
Andrea Estes of Spokane
Kristen Cyrus of Yakima
Idella King of Spokane
Tanisha Rattler of Spokane
Donna Dow of Auburn
Capri Holden of Colville
Jessica Schule of Mill Creek
Together, WA MomsForce Fellows will help families reap the benefits of Washington's newly expanded childcare financial assistance and Paid Family and Medical Leave program. They'll also share their stories related to early learning and childcare; economic justice; workers' rights; and other policies that, all together, form the essential building blocks for healthy and thriving children, families, and communities.
No one  knows the needs of families quite like moms; nor  can they promote change the way mothers do. These 15 moms might not wear capes, but they're certainly powerful and they're ready to change our world!  They are dedicated to bringing equity, and healing to their communities, and MomsRising. Welcome Washington State Fellows!